Slim Down Creations Garcinia Cambogia Review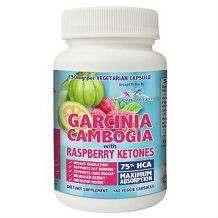 Another of the numerous weight loss supplements containing Garcinia Cambogia extract, this product promises efficient weight loss results in a shorter amount of time than other similar products. Its other component (i.e. Raspberry ketones) aims at accelerating the weight loss process. Though it is delivered in a slightly sealed package, the packaging may vary according to each manufacturer. Consumers are advised to carefully check each package.
What does Slim Down Creations Garcinia Cambogia claim to do?
Suppresses appetite
Enhances satisfaction after each meal
Controls blood sugar and cholesterol levels
Boosts metabolism
Efficient and quick fat burning
Quick weight loss
Ingredients
The Garcinia Cambogia extract, with a 75% HCA concentration, is practically responsible for the whole weight loss process. This ingredient blocks the fat production and boosts metabolism. In addition, it enhances mood and helps the consumer keep under control food cravings. Its other component, Raspberry ketones, is responsible for burning fats more efficiently and faster, and maintaining healthy blood sugar and cholesterol levels.
Dosage
For better results, the recommended dosage for this product is 2 capsules (i.e. 1500mg) twice a day, preferably 1 hour before each meal.
Side effects
Minor headaches and nausea are two of the claimed side effects. However, they might be generated by each body's reaction to the product's components.
Price
The original price of this product is $39.99. In order to make the product more affordable, manufacturers lowered the price to $15.49.
Guarantee
In order to show clients that they trust the product's efficacy, manufacturers are offering a 100% money back guarantee.
Conclusion – Slim Down Creations Garcinia Cambogia Review
Slim Down Creations Garcinia Cambogia provides all the benefits you would expect from a quality weight loss supplement. However, it would appear more credible if it was FDA approved.
Top investigative research brought to you by the experts at Customer Review.