Garcinia Cambogia Select Review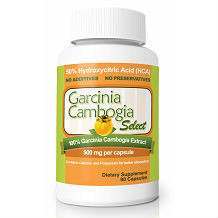 Garcinia Cambogia Select is one of the numerous Garcinia Cambogia-based slimming products that are making waves in the market. This dietary supplement for weight loss is relatively new, but we have come across glowing reviews about it. The product is said to help you burn fat, mainly by suppressing appetite and reducing fat storage in the body. It is also said to boost serotonin levels. Does this sound like what you are searching for? Find out more in our Garcinia Cambogia Select review.
Ingredients
The main active ingredient in this weight loss supplement is 800 mg Garcinia Cambogia extract containing 50% hydroxycitric acid.
According to its manufacturer, Garcinia Cambogia Select contains 100% pure Garcinia cambogia. The hydroxycitric acid (HCA) that this ingredient contains is the main factor in the efficacy of the product. It is said to help regulate your food intake by suppressing appetite. In addition, HCA also inhibits the activity of an enzyme known as citrate lyase, which converts the glucose in your food into fat. It further helps to control your cholesterol and triglyceride levels. This quantity of HCA is quite low compared to other products, though, which may affect the effectiveness.
Dosage
The information about the dosage is not available on the manufacturer's website at the time of writing this review. The company merely states that you will get this information on the product label when you buy it. We find this strange that they can't provide this on their website.
Possible Side Effects
We didn't come across any report of side effects in our research on Garcinia Cambogia Select. It should be safe since it supposedly does not contain any fillers or artificial ingredients. To be on the safe side, pregnant or lactating women as well as those with existing medical conditions or fruit allergies should first seek a doctor's opinion.
Price
Garcinia Cambogia Select is sold online, both on its maker's website and select third-party sites. The price details were not available on the official product page. It appears you may need to try placing an order before you can get that information. But the prices we saw elsewhere put the price per bottle at between $40 and $61. You can save significantly when you buy a larger quantity of bottles depending where you buy from.
Guarantee
Buyers get a promise of a 100% money-back guarantee. You can decide to return the product to get a refund within 90 days of your purchase. This, the company says, can be for any reason. But you are only able to request a refund for products you have yet to open or use.
Conclusion of Our Garcinia Cambogia Select Review
This product is one you may find beneficial, if you are convinced that Garcinia Cambogia extract can help you achieve weight loss. It is said to contain 100% pure Garcinia Cambogia extract and comes with a 90-day money back guarantee. However, the potency of this product is not the strongest. There are products available on the market that contain 95% HCA. We also find it strange that the manufacturer is not willing to disclose the dosage instructions for this product before you buy it.
Top investigative research brought to you by the experts at Customer Review.