Hamilton Healthcare Garcinia Cambogia Extreme Review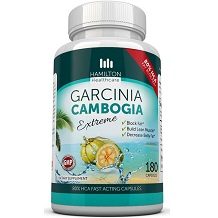 Today we are reviewing Hamilton Healthcare Garcinia Cambogia Extreme. This  product is designed to help with weight loss because of its appetite suppressing capabilities. The maker's of this supplement claim that their supplement is the purest and most potent concentration on the market, that it will encourage you to eat less between meals, and also be able to boost your mood.
Ingredients
One serving (two capsules) contains:
Although 80% HCA from 1400mg of garcinia is potent, other brands offer even higher concentrations of HCA such as 95% HCA from 1600 mg garcinia. This supplement contains chromium. Chromium supports the conversion of fat into energy. The addition of chromium may result in higher fat burn rates than other brands.
Dosage
Take 2 capsules three times daily on an empty stomach, 1 hour before meals, with a big glass of water.
Possible Side Effects
Consult your doctor before using this product if you are pregnant, nursing, or under 18 years of age, or have a known medical condition. Avoid using Garcinia Cambogia if you are allergic to the tamarind fruit. It is recommended that you build up your dosage gradually from 2 capsules per day because some people have reported digestive discomfort when taking the full dosage of 6 capsules per day right away. Do not exceed the maximum dosage of 6 capsules per day.
Price
On Amazon, the product is currently out of stock so we could not see what the sale price is but we did find a 180 capsule bottle from the same company which sells for  $24.95 with free shipping on Amazon. There is no bulk buying discount or new customer discount.
Guarantee
The company says that it provides a 60 day money back guarantee. It is not specified if that also includes the option to return opened bottles of capsules.
Conclusion of Our Hamilton Garcinia Cambogia Review
Positive aspects for this product include that it is contains 100 % pure garcinia cambogia extract. It is made with potassium to increase bioavailability in the body, is free from fillers and artificial ingredients, is scientifically formulated for maximum quality with third-party quality control testing before being bottled and sold.
We liked that the product is backed by a 60-day, no questions asked money back guarantee. The capsules are plant based and vegetarian friendly. The less positive aspects of this supplement are that it does not come with a bulk buying or new customer discount and will be therefore expensive to use in the long run. Although some reviewers have said positive things about this product's ability to suppress appetite, it isn't clear how effective or useful it is for helping you lose weight. We recommend that you shop around for an alternative Garcinia supplement from a company that supplies provides bulk buying incentives to make it better value for money.
Top investigative research brought to you by the experts at Customer Review.