Restore Health Pharmacy Omega-3 DHA Review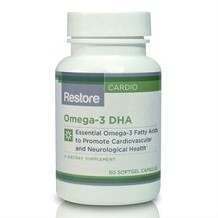 Health experts will surely agree with the importance of Omega-3 supplements in maintaining a healthy body. One of the perfect examples of such is Restore Health Pharmacy's Omega-3 DHA. One of the main ingredients of the latter is EPA, which is known for its anti-inflammation benefits. Another major ingredient of the supplement is DHA, it is widely known for the improvement of brain and visual health. For pregnant women, this is also essential as it promotes healthy fetal development. To add, Omega-3 fatty acids, which are found this this supplement, can also be a precursor for a healthier heart, and hence, prevention of related problems, such as hardening of the arteries, high blood pressure, and high cholesterol. While your diet can be an excellent source of the Omega-3 needed by the body, food may not provide sufficient amount of fatty acids, which is why most people turn into the use of supplements instead.
The fish oil that is found in this supplement from Restore Health Pharmacy has been carefully subjected to molecular distillation, which is one way of making sure it is free from all forms of impurities. By removing the contaminants found in the fishes, you can be confident of the safety and effectiveness of the supplement. The fishes used in this supplement are mostly anchovies and sardines sourced from the oceans of the Pacific and Atlantic.
Ingredients
DHA
EPA
Gelatin
Glycerin
Purified Water
From the list of the ingredients, one thing worth mentioning is that it only has 450 milligrams of DHA and 150 milligrams of EPA. These amounts are below the amount recommended by experts, which may have a negative impact on its effectiveness.
Dosage
As it has been recommended by the manufacturer, two capsules should be taken every day. It would be better if you can consult with a professional first to know the right dosage for your needs.
Price
One bottle of the supplement can be purchased for $25.40. Each bottle contains 60 capsules, which will be good for a month's supply.
Guarantee
It is a good thing that the company offers a 30-day satisfaction guarantee. Meaning, within a period of 30 days, if you are unhappy with the use of the product, you can have it returned and a refund will be given.
Conclusion – Restore Health Pharmacy Omega-3 DHA Review
In sum, this product comes with an affordable price tag compared to most of the Omega-3 supplements available in the market today. Price, however, is not the only factor that should be looked upon as you try to evaluate the alternatives in the marketplace. It may not be a good choice because of the minimal amount of DHA and EPA, which can be a reason for quality and effectiveness to be negatively affected. Since they fall below the normal recommendation of health experts, it will be harder to enjoy the wide array of benefits of Omega-3 as against the supplements with the right levels of DHA and EPA.
Top investigative research brought to you by the experts at Customer Review.