Xtendlife Omega 3 DHA Fish Oil Review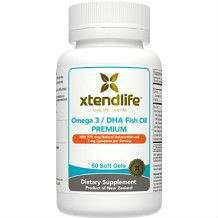 Xtend-Life Omega 3/DHA Fish Oil is a perfectly potent and pure dietary supplement that is a product of the calm and untainted waters off the New Zealand coast.
This exclusive blend of Omega-3 Fish Oil is made from the highest quality of DHA (Docosahexaenoic Acid), incorporating the optimum levels of this essential fatty acid. DHA plays an important role in maintaining and improving both mental and physical health, thus allowing you to:
Enjoy great cardiovascular performance – this enables your heart to pump strongly.
Boost brain function – it provides "brain foods" for optimal functioning.
Reduce bad cholesterol in the blood – your arteries will be cleared.
Eliminate inflamed and painful joints – keeps the joints supple for easy movement.
Maintain a healthy blood pressure – keeps 'the silent killer' at bay.
Keep mentally focused – raise your mood.
Balance blood sugar levels – and help eliminate energy ups and downs that make you feel unwell.
Sleep like a baby – and awaken feeling fresh and energetic for the day's work.
And enjoy a lot more benefits!
Ingredients
The ingredients that are used to make Xtend-Life Omega 3/DHA Fish Oil include:
2000 mg of Fish Oil (a trademark blend of hoki (whiting oil from New Zealand) and tuna oil).
1000 mg of Total Omega-3 Fatty Acids obtained from the unique blend of fish oil.
600 mg of DHA ((Docosahexaenoic Acid).
260 mg of EPA (Eicosapentaenoic Acid).
320 mg of Total Omega 6 Fatty Acids.
100 mg of Total Omega 9 Fatty Acids.
Dosage
The recommended dosage is as follows:
For a bottle with 30 servings, take 2 soft gels every day.
For a bottle with 15 servings, take 4 soft gels every day.
Adults are to take 2 to 4 soft gels daily.
With a daily dose of 2 soft gels –take both capsules at once, with or without a meal, anytime.
With a daily dose of 4 soft gels – take in two doses, with or without a meal, day or night.
Price
The product is priced at $17.95 for a bottle containing 60 soft gel tablets. This lasts 15 to 30 days.
Guarantee
The product vendor provides a guarantee and a return policy is also in place. There is also a phone number for making enquires.
Conclusion – Xtendlife Omega 3 DHA Fish Oil Review
Xtend-Life Omega 3/DHA Fish Oil provides significant health benefits due to the fish oils it contains. However, its use could quickly become costly if the price is calculated on a monthly basis, using the recommended dosage given. Potential customers are advised to consult a health professional to review the contents prior to purchasing this product.
Top investigative research brought to you by the experts at Customer Review.