Paradise Herbs Omega-Sure Fish Oil Review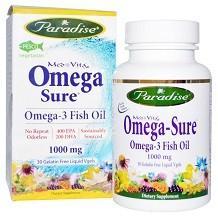 Omega-Sure Fish Oil, which is manufactured by Paradise Herbs, will surely make a good choice for people who are evaluating the different options available in the market for Omega-3 supplements. The superior quality of this product has made it a prominent choice amongst people who are searching for one that is expected to provide the best value for their money. The supplement is made in a facility in Norway in a process that is described as being ultra-pure, basically because of being able to successfully eliminate all of the impurities from the fish oil used, as well as the unpleasant taste and odor. With high purity standards, you can be confident that the fishes used do not contain lead, mercury, pollutants, and other types of possible contaminants.
More than the wide array of Omega-3 benefits that can be enjoyed with the use of this supplement, it is also important to note that it is the only vegetarian and gelatin free capsule available in the market today. Rather than using gelatin, the capsule is made from seaweed. It is also made with the use of natural triglyceride fish oil. Although this is more expensive than the traditional synthetic ethyl esters, it is better in ways more than one, such as when it comes to stability, bioavailability, and overall effectiveness.
Ingredients
Omega-3 Fish Oil Concentrate
EPA
DHA
Although the product contains DHA and EPA, they are below the levels recommended by health experts. The recommended DHA is 600 milligrams but the product only contains 200 milligrams. More so, the recommended level of EPA is 800 milligrams, while this supplement only has 400 milligrams.
Dosage
As it has been recommended by the manufacturer, one or two capsules should be taken in a day, preferably with meals. To be sure of the right dosage, it is a good idea to consult with a medical professional first.
Price
One bottle of the supplement can be purchased for $34.99, which contains 60 capsules. Each bottle can be good for one or two months of supply, depending on your dosage. This price is decent enough in comparison to the other Omega-3 supplements you can find in the market today.
Guarantee
If you are unhappy with the use of the product, inform the company so they will have an idea about the experiences of their customers. However, they will not offer a refund. Since the product is sold by third-party sellers, they may have varying policies on product guarantee.
Conclusion – Paradise Herbs Omega-Sure Fish Oil Review
In sum, Omega-Sure Fish Oil can be a good option for Omega-3 supplements because of its affordable price. However, there are some problems, like the minimal contents of DHA and EPA, which are essential ingredients. In addition, the manufacturer does not also offer a product guarantee. The market is abundant with alternatives which are better because they use the right levels of DHA and EPA and also have money-back guarantee from the manufacturer.
Top investigative research brought to you by the experts at Customer Review.