Orange Flavour Children's Omega-3 Webber Naturals Review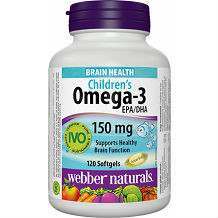 Omega-3 fatty acids can be of great benefit to children whose bodies are still growing and developing. Essential fatty acids boost the growth of the body, while also improving the development and performance of the brain. Apart from the brain, the cardiovascular system and the rest of the body also benefit greatly from Omega-3.
Children's Omega-3 is dietary supplement that contains Omega-3 fatty acids, which are responsible for optimizing a lot of bodily functions in children – mental, physical, as well as emotional.
Ingredients
Children's Omega-3 has the following ingredients. It should be noted that information regarding the quantity of each ingredient is unavailable.
Omega-3 fatty acids – Clinical studies have shown that Omega-3 fatty acids can lower blood pressure and reduce levels of triglycerides in the blood.
EPA (Eicosapentaenoic Acid) – There is not enough evidence to prove that EPA has any mental, physical or emotional benefits to the body.
DHA (Docosahexaenoic Acid) – There is not enough evidence to support the claim that DHA aids the growth process.
Fish oil concentrate – Fish oil concentrate has been proven to prevent the walls of arteries from hardening and offers general benefits to the cardiovascular system, according to WebMD.
Dosage
The recommended dosage for children above two years of age is 2 capsules with a meal per day. It is important not to exceed the recommended dosage, unless under the instructions of a medical professional or pharmacist.
Price
The Children's Omega-3 website does not contain any information regarding the price per bottle of this diet supplement. Potential customers wishing to purchase this product will have to visit other websites for further information about the price.
Guarantee
A lot of research has been done to find out whether Children's Omega-3 comes with a guarantee or return policy. So far, there is no evidence to suggest that the product vendor offers any kind of guarantee to unsatisfied customers. Customers are unlikely to get their money back if they are not happy with the results of the product.
Conclusion of Orange Flavour Children's Omega-3 Webber Naturals
Children's Omega-3 contains the essential Omega-3 fatty acids that promote good health in children. However, the product vendor has not been open about the price of the product and whether it comes with any kind of guarantee. This information is important for prospective buyers to have prior to purchasing a product. The only way to know how much the product costs is to wait for the transaction to show up on your credit card statement.
Top investigative research brought to you by the experts at Customer Review.