Omega 3 6 9 Supplement ProHealth Review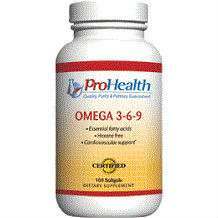 It is difficult to find one product that actually provides complete support for a healthy heart and an optimal cardiovascular system. ProHealth Omega 3-6-9 is one supplement that accomplishes this. ProHealth Omega 3-6-9 is made from ingredients like:
Canola seed oil and flax seeds which provide the Omega-3 fatty acids,
GLA from Primrose, which provides Omega-6 fatty acids, and
Oleic acid which provides Omega-9 fatty acids.
For people who want to enjoy the benefits of good health brought about by adding essential oils to the diet, ProHealth Omega 3-6-9 is the perfect choice.
Why is it important to get Omega fatty acids from the diet? The consumption of essential fatty acids, like the Omega fatty acids mentioned above, are vital in promoting good health, both physical and mental. Yet the body has no way of naturally synthesizing Omega fatty acids. The only way to get these essential fatty acids is to add them to our daily diet.  ProHealth Omega 3-6-9 is therefore a good way of doing this and gaining optimal health.
Ingredients
ProHealth Omega 3-6-9 contains the following ingredients:
1400 mg, Flax seed oil
300 mg, Evening Primrose oil
20 mg, Pumpkin seed oil
20 mg, Blackcurrant oil
5 g, Polyunsaturated fats
<0.5 g, Monounsaturated fat
<0.5 g, Saturated fat
No cholesterol
Dosage
The recommended dosage for ProHealth Omega 3-6-9 is 2 soft gels to be taken 1-3 times every day with food, or as instructed by a medical professional.
Price
ProHealth Omega 3-6-9 is priced at $13.40 for a bottle containing 100 soft gel capsules. This can last up to 50 days, depending on your daily dosage.
Guarantee
ProHealth Omega 3-6-9 comes with an offer of a 60 day money-back guarantee with every purchase. Buyers can try out the product risk free for 2 months and then return it for a refund if they are unsatisfied with it. The return policy is exclusive of any shipping charges. The product vendor has also made available a phone number in case potential customers have any queries or comments. A web-based tool is also provided for this purpose.
Conclusion of Omega 3 6 9 Supplement ProHealth Review
ProHealth Omega 3-6-9 is a reasonably priced dietary supplement. The product does not require much monetary investment to purchase. It also comes with a 60 day money-back guarantee, which is a plus for buyers who are thinking of purchasing it. However, all it claims to do is support the health of the heart and cardiovascular system, and nothing else. It is advisable to consult a health care practitioner to review this vitamin supplement before buying it.
Top investigative research brought to you by the experts at Customer Review.