Absolute Omega-3 Maritz Mayer Laboratories Review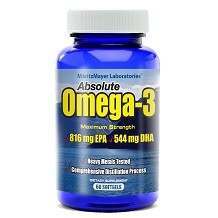 Absolute Omega-3 is a dietary supplement made from natural ingredients. This product contains essential Omega-3 fatty acids like EPA (Eicosapentaenoic Acid), ALA (Alpha-linolenic Acid), and DHA Docosahexaenoic Acid). The main source of Omega-3 fatty acids like EPA and DHA are fish oils, especially from deep-sea fish. Other sources include algae, some varieties of plants and nuts. The body does not synthesise Omega-3 fatty acids, thus making it necessary for it to be included in the food we consume. Omega-3 provides numerous benefits to the body, such as lowering the levels of unhealthy triglycerides in the blood, and improving cardiovascular performance.
Ingredients 
The following ingredients are used in Absolute Omega-3. The specific quantities are unknown.
Omega-3 fatty acids – Clinical studies have proved that Omega-3 fatty acids are able to lower the levels of triglycerides in the blood, and reduce blood pressure.
EPA – The evidence to prove that EPA can reduce blood pressure, or prevent a stroke or heart attack is inconclusive.
DHA – The evidence to prove that DHA can reduce the levels of bad cholesterol in the body is inconclusive.
Dosage
The recommended dosage of Absolute Omega-3 is 2 soft-gel capsules to be taken every day, or as directed by a health care professional.
Price
Absolute Omega-3 is priced at $24.95 per bottle. The product is packaged in a container carrying 60 soft-gel capsules per bottle.
Guarantee
The product vendor offers Absolute Omega-3 with a 30-day guarantee, with a return policy that does not include shipping fees. In case a customer is unsatisfied with the results of the product, they have 30 days from the purchase date to return it and receive a full refund.
Conclusion – Maritz Mayer Laboratories Absolute Omega-3 Review
Absolute Omega-3 contains ingredients which, according to the product source, can reduce blood pressure levels in the body. However, this is all that the product can do. It does not provide any other health benefits apart from lowering triglyceride and blood pressure levels. The product vendor has also not made available the quantities of the ingredients that have been used in product manufacture. The product has a 30-day guarantee, which allows customers to try out the product risk-free for one month. This is a very short period of time to experience the effects of the supplement.
Top investigative research brought to you by the experts at Customer Review.