Healthy Care Omega-3 Fish Oil Review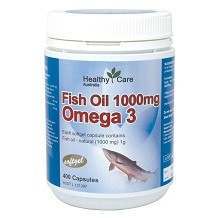 Omega-3 fatty acids are important for the body because of the wide array of benefits that it can provide. This can be sourced naturally from fish, but there are many people who do not like eating fishes because of its taste and smell. Also, while fatty acids are abundant in fishes, the amount may not be sufficient. In this case, the best thing to do is to take Omega-3 supplements like Healthy Care Omega-3 Fish Oil. The fishes used in this supplement have been carefully sourced to ensure their effectiveness and safety. The process of production is also very stringent, which demonstrates the emphasis on quality control measures.
Through taking this supplement, a variety of Omega-3 benefits can be experienced. Some of the most commonly reported include the provision of relief against eye problems, psoriasis, inflammatory problems, and dermatitis. To add, Omega-3 has also been asserted to be highly instrumental in the improvement of the health of heart, brain, and heart. It can also regulate the level of cholesterol in body and improves the functioning of the nervous system. Given the tons of benefits, there is no wonder why this supplement is a popular choice in a market that is replete in terms of alternatives.
Ingredients
From the list of the ingredients, it is noticeable that it is quite short in terms of the sources of Omega-3 fatty acids. In addition, it is also important to point out that the supplement only contains 180 milligrams of EPA and 120 milligrams of DHA, both of which are below the levels recommended by health experts. Because of such, there is a possibility that it may not be as effective as other Omega-3 supplements with higher concentrations of DHA and EPA.
Dosage
As it has been recommended by the manufacturer, three capsules should be taken in a day. For people who are suffering from arthritis, it is recommended to increase the dosage to at least four capsules.
Price
One bottle of the supplement contains 400 capsules, which can be purchased for $14.99. The price is very affordable, especially considering the fact that it can provide supply for an extended period of time.
Guarantee
The website of the manufacturer does not provide any information with regards to product guarantee. Since the supplement is available in third-party websites, each seller may have their respective return policies.
Conclusion of Healthy Care Omega-3 Fish Oil Review
This product can be an attractive choice for people looking for Omega-3 benefits that are cheap. Nonetheless, other than its price, no other significant benefits are apparent. It does not contain the right amount of DHA and EPA and it also does not have a money-back guarantee. If you want to be provided with the best value for your money, you should exert time and effort to take a look at the other choices in the market. Specifically, you should look for one wherein you can have it returned and be refunded if you are unhappy with its use.
Top investigative research brought to you by the experts at Customer Review.