Natural Fish Oil Supplement Blooms Health Products Review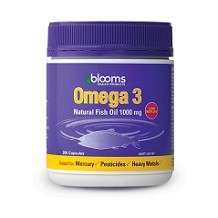 If it's VALUE that you are looking for in a dietary supplement, then Blooms Omega 3 Natural Fish Oil will serve the purpose. Blooms Natural Fish Oil Supplement offers numerous health benefits, such as:
It eases headaches.
It preserves and boosts normal cognitive function of the brain.
It reduces the levels of unhealthy triglycerides in the bloodstream.
It improves normal cardiovascular performance.
It helps to maintain a normal blood pressure.
It gives short-term relief from arthritic symptoms, for example morning stiffness and inflammation of the joints.
It also helps to maintain healthy eyes and skin.
Ingredients
The product comes in the form of soft gel capsules, with each capsule containing:
1000 mg of Natural Fish Oil
Omega-3 marine triglycerides, in the form of 300 mg of EPA (Eicosapentaenoic acid) and 120 mg of DHA (Docosahexaenoic acid).
Dosage
The recommended dosage for this supplement is dependent on the specific user's health condition. When taken as a regular dietary supplement, the dosage is 1 capsule three times a day. When taken for arthritis, the dosage is 4 soft gel capsules three times every day. When taken to lower cholesterol or triglycerides in the blood, the dosage is 5 capsules to be taken three times a day.
Price
The product vendor is based in Australia, and the following prices have been quoted in US dollars. A 200-capsule container is sold at $7.52; a 400-capsule container costs $15.80; and 180 capsules of 1500 mg are priced at $15.80.
Guarantee
There is no information that has been made available from the product source concerning product guarantees or even return policies. There is a phone number as well as a web form provided by the product vendor, in case potential clients require further information or want to send queries and comments.
Conclusion for Natural Health Practice IB Support
Blooms Omega-3 Natural Fish Oil Supplement is sold by an Australian-based company and is available through a network of online dealers. Potential customers living in the U.S. must obtain more information from the product source regarding the availability of the product in the country. Buyers interested in purchasing this supplement should also contact the dealer about any product guarantees and return policies available before buying it.
Top investigative research brought to you by the experts at Customer Review.