Icelandic FOURmula Omega 3 Review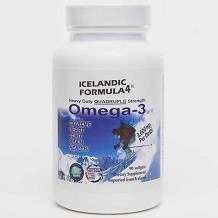 The Icelandic formula Omega-3 fish oil is one of the highest potency Omega-3 fish oils available.  It states that it offers the highest levels of Omega-3, DHA and EPA than in any other type of Omega-3 supplement. What's more, the product is produced in accordance with FDA as well as Icelandic standards and is certified to be free of any toxins or pollutants.  Studies have shown that virtually all people living in the United States are deficient in Omega-3. To reach the required amount of Omega-3, fish would need to be eaten on a daily basis. With those who follow a diet that's rich in Omega-3, ailments such as heart disease, diabetes, high blood pressure and even Alzheimer's are eradicated.
Ingredients
Icelandic Formula Omega 3 is made up of the following ingredients:
1800mg Omega-3, 900mg EPA and 600mg DHA.
The capsules are made from 100% pure fish oil which is imported from Iceland.
Dosage
The suggested dosage for the Icelandic Formula is three softgels taken on a daily basis.  As with other supplements, the product can be purchased without a prescription.  However, it must be remembered that before adding supplements to your diet, including Omega-3, it is recommended that a medical expert be consulted.
Price
The price of the Icelandic Formula Omega-3 softgel capsules is $39.95 per bottle.  However, should buyers wish to purchase higher quantities of the product, the cost reduces significantly.  For instance, the cost of 12 – 36 bottles of Icelandic Formula Omega-3 is $19.99 per bottle.
Guarantee
Icelandic Formula Omega 3 products have been certified as being 100% and are sold with a 100% money back guarantee.  Simply put this means that should a buyer, not be 100% satisfied with the product, a refund or credit will be issue.  One need simply contact the Customer Service Centre.  As with other vendors, bottles must be returned unopened and the buyer must adhere to the 30 day return policy, which means that the buyer has 30 days to return the purchase for a full refund.  It is important to remember that the vendor does not offer refunds on shipping and handling costs.
Conclusion of Icelandic FOURmula Omega 3 Review
It is safe to say that Icelandic Formula Omega 3 is a good, well rounded product that offers value for money.  The money back guarantee assures buyers that the vendor is more than happy to refund buyer, should they not be 100% satisfied. However, there is nothing that indicates that it is FDA approved.
Top investigative research brought to you by the experts at Customer Review.