Spring Valley Fish Oil Review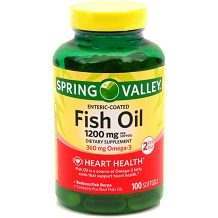 This Spring Valley Fish Oil review is designed to determine whether this dietary supplement can deliver the required amount of omega-3 essential fatty acids that aim to improve cardiovascular health. Based on the information on their site, this product claims to help provide its user with the required daily amount of omega-3s to help reduce one's risk of suffering from heart problems like stroke. Want to find out more? Read on.
Ingredients
Refined Fish Oil – 1000mg
Gelatin
Water
Mixed Natural Tocopherols
This product contains 300mg of Omega 3, including 260mg of EPA-DHA. This is quite low compared to some other products on the market. It appears that this diet supplement actually contains pure fish oil without the presence of mercury.
Dosage
Based on our research on Spring Valley Fish Oil, you will need to take three capsules per day. Customers should take one capsule three times a day and preferably with a meal.
Possible Side Effects
We have looked for more information regarding any possible side effects when it comes to taking this supplement. So far, we haven't found any related side effects. What you can get, however, is improved digestion because the capsules are enteric coated and that you won't experience any fishy aftertaste when taking this supplement. Pregnant and breastfeeding women, children below the age of 18, as well as those taking other medications should consult their doctors first prior to taking this supplement.
Price
In terms of pricing, Spring Valley Fish Oil can be bought from Walmart for $5.94. This is for a bottle of 200 softgels. This can vary depending on which online site you are going to purchase it from but so far this is the average price for this supplement. It is possible that you can get discounts when you purchase several bottles so you might want to check this out for each online retailer or reseller.
Guarantee
Regarding guarantee, there is limited information available. It is possible that the guarantee will come from the retailer of this omega-3 supplement which you need to take into consideration when buying. The lack of sufficient information about the guarantee for this dietary supplement is a cause for concern as to whether this product is actually effective or not.
Conclusion of Our Spring Valley Fish Oil Review
After carefully studying all the data that we have gathered for our Spring Valley Fish Oil review, we have determined two things. One, this omega-3 supplement doesn't include any additives, binders, or fillers that can affect the purity of the fish oil and two, there are no known side effects when taking this supplement.
However, we are concerned as to the lack of suitable guarantee for customers who will be using this product. The customer reviews we have come across are divided between satisfied and unsatisfied. Those who are not happy with the product comment on the lack of results not to mention that on the label the fact that each capsule contains 1000mg is misleading.
We conclude that it is possible that there are better alternatives to Spring Valley Fish Oil with higher concentrations of omega-3 fatty acids.
Top investigative research brought to you by the experts at Customer Review.