GNC Total Lean CLA Review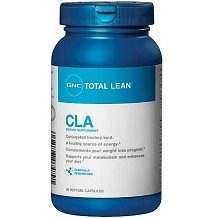 GNC Total Lean CLA is a dietary supplement that claims to buoy your metabolism, augment your diet, help you build a lean body and promote overall well-being. The manufacturer says its claims about GNC Total Lean CLA are supported by scientific and clinical data. We decided to delve into the product and see if it lives up to its claims. Read on to find out.
Ingredients
The active ingredient is 1000 mg of CLA per capsule, derived from safflower oil. CLA Helps you achieve weight loss goals by suppressing your appetite. It also increases fat burning for more energy by stimulating the breakdown of fat and prevents future fat buildup.
Dosage
The manufacturer recommends that you take two softgels twice daily. We find the dosage somewhat concerning. Remember that the risk of adverse side effects increases with dosage.
Possible Side Effects
When taken within safe dosages, CLA should not have side effects. However, during our search, we found that some consumers complained of acne, hair loss and some even gained weight. For pregnant or nursing mothers, and those under 18 years of age, please consult a health care professional before using.
Price
GNC Total Lean CLA is sold online by retailer Jet.com. The more you buy, the better the prices get. At the time of our review pricing for a 180-count bottle (45-day supply) was $35.99. Multi-bottle orders were less, per bottle. For example, a two-bottle order was $34.19 each, 5 bottles was $33.11 each. Jet also gives miniscule discounts for waving free returns and paying by debit card. On the GNC website, a 90-count bottle was $29.99 with a 10% reduction if you joined their auto-reship program. The same 90-count bottle on Amazon was $22.99.
Guarantee
Jet.com gives you 30 days to decide if you want to keep the product. If not, you should return the goods in the original condition. We were unable to find any guarantee, return/refund information on the GNC site.
Amazon customer feedback at the time of our review was reasonable with 75% positive and 22% negative ratings. The latter is of some concern.
Conclusion GNC Total Lean CLA Review
GNC Total Lean CLA seems to be just another CLA product without anything that truly distinguishes or recommends it. The product contains only CLA; it has no added ingredients, binders or preservatives. And the pricing is average. Interestingly, the manufacturer's website references several studies, some showing that CLA supplementation works and others showing it is not effective. We appreciate the candid nature of the information.
What concerns us specifically about this product is that it appears the manufacturer does not have a return/refund policy. We also did not find any indication that its products are produced according to cGMP certification.
Top investigative research brought to you by the experts at Customer Review.