AST Sports Science CLA 1000 Review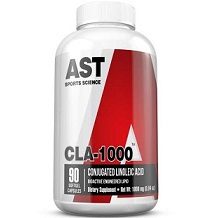 Today we review AST Sports Science CLA 1000. This supplement has been shown to help you not only lose weight but also build lean muscle mass. Additionally, this formula has antioxidant and immune enhancement support.
Ingredients
The only ingredient listed for this supplement is 2250 mg of CLA that is standardized to 75% per 3 capsules.  Research has shown that the optimal potency for CLA should be at least 85% standardized. Without the proper potency, the CLA will not be as effective at helping you lose the weight you want to.
Dosage
The suggested dose for this product is taking 1-2 capsules, 2-3 times daily with a meal. It is not stated, however, if there are specific times during the day that this supplement is more helpful, like with breakfast or dinner. Also, by taking that many capsules per day, you will far surpass the clinically recommended 2,000 mg of CLA per day. Taking too much CLA could be potentially dangerous.
Possible Side Effects
The packaging of this supplement has no side effects or warnings listed.  This is actually worrisome, as even the safest supplements will state that you should speak with a doctor before beginning a new daily regimen.  Without even the basic warnings, it seems that this product may have something to hide. It is also important to note that this manufacturer has been banned from importing any of their products to 12 countries, with many others banning certain products.
Price
The manufacturer's suggested retail price for a 90 count bottle of this supplement is $32.95, but it is currently available for purchase at a price of only $23.99.  We were unable to find any kinds of discounts available for this product, like a bulk discount or even an auto-shipment program. There was also no stating of free shipping if you ordered a certain amount.
Guarantee
After thorough investigation into AST Sports Science's website, we found no information regarding any type of manufacturer's guarantee or a refund policy.  They do offer plenty of contact information, depending on which department of the company you wish to speak with, but they do not have a refunds or returns department listed.  This may make it extremely difficult to return the product, should you be unhappy with the results.
Conclusion of Our AST Sports Science CLA 1000 Review
There are a few things we liked about AST Sports Science CLA 1000.  The price of this supplement was average when compared to its competitors, meaning it is not too expensive.  Additionally, the dosing instructions are flexible, so you can tailor this system to your specific weight loss needs. Unfortunately, we found far more concerns than positives about this product. The CLA in these capsules is only standardized to 75%, not the optimal 85%.  Also, by taking a higher dose of this, you will be exceeding the recommended daily dose of only 2,000 mg of CLA per day. There were no warnings listed about this supplement, even though it is banned from many countries. Lastly, we found no information regarding a manufacturer's guarantee.  For these reasons, we cannot recommend this supplement to help you lose weight and build lean muscle.
Top investigative research brought to you by the experts at Customer Review.