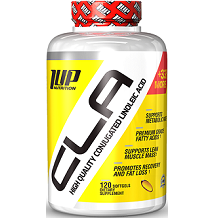 Our product review today focuses on a supplement called 1UP Nutrition CLA. The manufacturer claims that their product can boost metabolic rates, burn body fat, support lean muscle mass, therefore promoting weight loss. The company also claims that their formula provides the highest quality ingredients for optimal results.
Ingredients
This main ingredient in this supplement Conjugated Linoleic Acid (CLA) at a 1000mg dose per capsule. This ingredient is an essential fatty acid, naturally found in beef and milk, that has powerful health benefits. Studies have shown that, in the right quantities, CLA can boost metabolic rates and lead to increased fat burning capacity. This product contains 80% of CLA per serving which is the recommended optimal  amount.
Dosage
Take one capsule four times per day ideally before a meal for best results. The manufacturer did not state what the best time of day is to take the capsules or whether its ok to take all four doses in one sitting.
Possible Side Effects
This supplement is not for use for people under the age of 18. Do not exceed the  recommended dose. Consult a physician prior to using if pregnant or nursing or if you have a medical condition.
Price
You can purchase this supplement directly from the manufacturer's website where a 120 count bottle (30 day supply) costs $22.49 with free domestic shipping. There are no added savings or incentives provided by the manufacturer if you buy in bulk nor any additional savings for new customers.
Guarantee
The company stands behind the product with a 100% money-back guarantee, and allows you to return the product within 30 days of purchase for a refund. The condition of the refund is that 80% of the capsules must remain in order to receive a refund. This policy doesn't allow you enough time to see if the supplement is beneficial in promoting weight loss.
Conclusion of Our 1UP Nutrition CLA Review 
In summarizing our review of 1UP Nutrition CLA, we have some positive conclusions and also some not so positive comments. In terms of ingredients, this supplement contains an optimum amount of CLA to potentially promote beneficial results. 1UP Nutrition is NSF and GMP certified and therefore has high standards of manufacturing processes. We also liked that the company offers free US shipping on all orders, and offers a 30 day guarantee that includes partially used bottles of capsules. On the less positive side, this is a quite an expensive product at $22.49 for a one month supply. This coupled with a lack of bulk buying incentives makes it costly to use in the long run. The manufacturer does not offer a first time buyer discount either. We liked that there is a guarantee but it is short at thirty days and requires that bottles must contain 80% ore of their original contents. We would suggest that you look elsewhere for a CLA supplement and try to find one that is better value for money, with a longer guarantee, and one that offers a bulk buying discount.
Top investigative research brought to you by the experts at Customer Review.