ARC Supplements Conjugated Linoleic Acid Review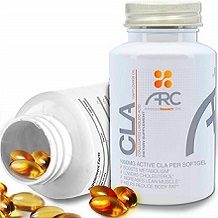 Today we review ARC Supplements Conjugated Linoleic Acid.  This weight loss supplement is specially formulated to target the stubborn fat around your midsection.  By also helping to lower cholesterol and increase lean muscle, this supplement will help you reach your weight goals.
Ingredients
Vitamin E
CLA Complex, 75% standardized
CLA is shown to be a powerful nutrient at burning excess fat.  What concerns us, is that on the on the manufacturer's website, they claim this supplement is standardized to 80%. While the label of the supplement bottle states the CLA is only 75%.  Either way, neither of these potencies is as high as the optimal potency of 85% CLA.
Dosage
This supplement should be taken twice a day, at breakfast and at dinner.  You can decide whether you want to take one or two capsules for each dose.  Each capsule contains 1,000 mg of CLA, making your total daily intake between 2,000-4,000 mg daily.  Research has shown that the best daily dose for this type of supplement is only 2,000 mg per day. It is not stated if you should take the supplement before or after the meal, or how much water is needed to make sure the pills are digested properly.
Possible Side Effects
First off, you should not exceed the daily recommended dose of these capsules.  Additionally, if you are pregnant, nursing, or under the age of 18, you must consult with a physician before adding this supplement to your daily regimen.
Price
This manufacturer does not offer the sale of this supplement directly from their website.  Instead, they send you to an Amazon page to order it. Each bottle contains 90 capsules and is listed on Amazon for $27.97. It is stated that if you buy three products or more, you will be entitled to a 15% discount, but it was unclear if this could be three of the same bottles or if it needed to be three different types of supplements.
Guarantee
As is common with manufacturers that do not sell to their consumers, we were unable to find any mention of a manufacturer's guarantee or a return policy for this supplement.  If you decide to purchase this product, you should thoroughly research the return policy of your specific third party seller to ensure that you will be able to return these if you are unhappy with the results.  It is also important to note, that over 25% of customer reviews on Amazon said this product did not work at all and one even mentioned needing to throw the unused product away, instead of being able to claim a refund.
Conclusion of Our ARC Supplements Conjugated Linoleic Acid Review
There are a few things we liked about ARC Supplements Conjugated Linoleic Acid. Each capsule does have 1,000 mg of CLA, making the daily dose the recommended 2,000 mg.  Additionally, aside from the typical supplement warnings, there were no side effects listed about this product.
Unfortunately, we had many concerns regarding this product.  While each serving does have the 2,000 mg needed of CLA, this product is only standardized to 75%, not the optimal 85%.  Also, these capsules are not available for purchase directly from the manufacturer, and therefore you must purchase from a third party seller.  This then allows the manufacturer to not need to offer a manufacturer's guarantee. Lastly, over 25% of customers stated in their reviews the ineffectiveness of this product.  For these reasons, we cannot recommend this supplement to help you reach your weight loss goals.
Top investigative research brought to you by the experts at Customer Review.