Bio Nutrition CLA 1500 Review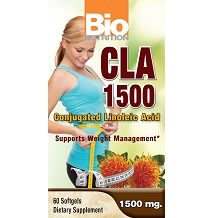 Today we review Bio Nutrition CLA 1500.  Sourced from extra virgin safflower oil, the CLA in this formula will help you manage a healthy weight.  In addition, this supplement will help both your heart and general health.
Ingredients
Conjugated Linoleic Acid
Stearic Acid
Aside from having 1,500 mg of CLA, it is not stated how much of the other two ingredients are in each capsule. The standardization of the CLA was also not stated which is an extremely important factor in determining how effective this product will be at helping you lose weight. A customer review also stated that the capsules are made of bovine gelatin, which means they are not vegan or vegetarian friendly.
Dosage
The manufacturer suggests taking two softgels, once or twice daily. This puts your daily intake at 3,000-6,000 mg. Research has shown that only 2,000 mg of CLA is needed per day, which is far less than what is being recommended by this supplement.  Taking too much of this supplement could give you unwanted side effects.
Possible Side Effects
We did not find any possible side effects or warnings listed for this supplement.  This is quite worrisome, as almost every supplement contains the general warning that you should ass dietary supplements to your daily regimen under the supervision of a doctor.  Without even this simple warning, we worry if there is something else that this product is trying to hide.
Price
One bottle of 60 capsules costs only $14.95.  With only 60 capsules per bottle, each bottle will last only half a month, if you take the lowest recommended dose, which will make the overall price of these capsules more expensive than its competitor's pricing. Shipping is an additional $5.99 flat rate, but you can earn free shipping with a minimum $49.99 purchase.
Guarantee
This manufacturer has no money back guarantee listed.  Instead, they state that any damages must be reported to the company within one day of receiving the product. All returns made will be subjected to a 10% restocking fee plus any shipping costs that the manufacturer originally may have paid. This means, should you find yourself unhappy with your purchase, there is no way to get your entire purchase price back with a return.
Conclusion of Our Bio Nutrition CLA 1500 Review
There are a few things we liked about Bio Nutrition CLA 1500.  The dosing for this supplement is flexible, as you can choose whether to take one or two doses per day, depending on your weight loss needs.  Also, the CLA in these supplement is sourced from only extra virgin safflower oil.
Unfortunately, we did find many concerns regarding this product.  The standardization of the CLA in each capsule is not stated, and therefore could affect the potency and effectiveness of these capsules. Every daily dose also goes way over the clinically recommended daily dose of CLA.  By not mentioning any warning, it also shows this product has something to hide. Also, the price of just one month of this supplement is quite expensive. Lastly, there is no money back guarantee on this product, and any returns to the manufacturer are subject to a 10% fee.  For these reasons, we cannot recommend this supplement to help you lose weight.
Top investigative research brought to you by the experts at Customer Review.