Research Verified Canker Sore Relief Review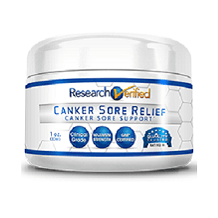 Our review for Research Verified's Canker Sore Relief shows that it is a multi-functional powder that targets canker sores to reduce inflammation and pain and to speed up healing. This solution is infused with clinically tested ingredients to increase efficacy. Another plus to using Canker Sore Relief by Research Verified is that it doesn't contain any additives, binders, or even fillers which show that this product is the real deal. This product is manufactured in an FDA-approved and GMP-certified laboratory ensuring quality and safety.
Ingredients
Aluminum Potassium Sulfate
Propolis Powder
Licorice Powder
Folic Acid Powder
Each ingredient is chosen for its ability to reduce pain, inflammation, and occurrence of canker sores. They are also known to speed up the healing process.
Dosage
To use Canker Sore Relief, you should apply a pinch of powder on the affected area and leave it for 60 to 100 seconds before removing. At this point, your mouth will produce saliva. Swish your saliva to mix with the powder for three minutes. You should do this treatment three times a day. If you are going to use this remedy daily, just mix the Canker Sore Relief with water and swish in your mouth to prevent canker sores from recurring.
Possible Side Effects
This product is made with natural ingredients and does not contain any harmful additives. You can read Research Verified reviews to see the efforts this manufacturer goes to, to ensure safety. Pregnant women and nursing mothers should consult with their doctors first before using Canker Sore Relief. Although there are no known side effects associated with this product, if you experience any adverse effect, discontinue use.
Price
In terms of prices, you can get a tub of Canker Sore Relief for just $34.95 which is good for a month. If you want to get discounts, you can choose their three months' or six months' supply. The three months' supply costs $72.95. The six months' supply is priced at $105.95.
Guarantee
Research Verified is confident about the quality and efficacy of their product, that is why they have a 365-day money-back guarantee in place. This gives the user plenty of time to test their Canker Sore Relief to determine if it actually works. If you are not satisfied with the outcome, you can return your order regardless of whether the product is opened or not. You will receive a full refund, but the shipping cost is not included.
Conclusion Of Our Research Verified Canker Sore Relief Review
After our extensive research, we believe that this product is one of the best choices available on the market today. The ingredients used have undergone clinical trials to ensure that they work and that they follow the proper dosage as per the recommendations of doctors and health experts. In terms of pricing, the package deals offered by Research Verified are reasonable. And the money-back guarantee is very good as well as it gives customers more than enough time to try out Canker Sore Relief. We have also come across several customer reviews that talk about the efficacy of the product and how it eased the pain and discomfort that accompany canker sores. All in all, we highly recommend this product for those who are in need of a quick solution for their canker sore woes.
Top investigative research brought to you by the experts at Customer Review.