TNVitamins Ultra Thin CLA Review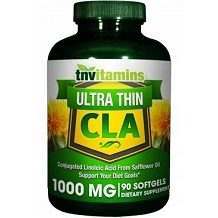 Search for CLA supplements and a whole lot of products pop up. TNVitamins Ultra Thin CLA, the subject of this review is one of them. The manufacturer says it supports efficient fat metabolism and promotes lean muscle development. In other words, it enhances your dieting goals and workout plans. Let's look at the additional details we can glean about this product to help you in your purchasing decision.
Ingredients
TNVitamins is derived from safflower oil. Each softgel weights 1000 mg and has 78 – 84% CLA. CLA purportedly works by preventing the formation of fat cells and some say it helps suppress appetite.
Dosage
The manufacturer recommends that you take one or more softgel every day or as directed by your healthcare professional. This rather vague dosage is concerning as a single softgel contains notably less than the dose recommended in scientific studies, whereas the undefined maximum dose could lead to ingesting too much CLA resulting in adverse side effects.
Price
At the time of our research you could buy a 90-softgel bottle from the manufacturer's website for $7.58 or $13.98 for 180 softgels. There was no information regarding discounts, coupons or offers. Also, we found no multi-purchasing options. The only information available was that you could checkout with PayPal.
Guarantee
The manufacturer offers a reasonable 90-day period, from the date of delivery, to return unwanted product for a refund. It seems to imply it will accept both open as well as unopened bottles. The handful of reviews on the manufacturer's website all (unsurprisingly) praised the product. The few customer reviews on Amazon (at the time of writing) are not enough from which to draw any solid conclusions.
Possible Side Effects
So far, TNVitamins Ultra Thin CLA has no side effects reported. The manufacturer recommends that pregnant or breastfeeding women and people under medical supervision should consult a doctor before use.
Conclusion of Our TNVitamins Ultra Thin CLA
The thing that stands our right away about TNVitamins Ultra Thin CLA is its very low price compared to other CLA products. It's hard to know whether this is a case of you get what you pay for (ie. cheap price, cheap quality) or it is a ploy by the manufacturer to scoop market share. The return/refund policy looks good (you should just confirm from the manufacturer that you can indeed return opened bottles, allowing you to test the product risk-free).
We find it of concern that the manufacturer does not nail down a recommended dosage and, in fact, gives very little information at all about the product.
If you are looking for a cheap CLA product this could be for you.
Top investigative research brought to you by the experts at Customer Review.