Essential Elements CLA Review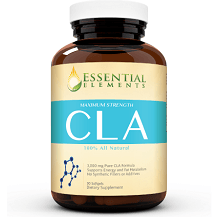 CLA products have been a popular commodity in recent years and Essential Elements CLA, the subject of this review, is one of them. The manufacturer claims this CLA supplement is unique in that it is made from high-quality, non-GMO safflower oil. Its concentration comes in at 80% conjugated linoleic acid which is similar to many other competitors. The maker also claims that recent clinical studies indicate that a highly concentrated dosage is important if the CLA is to burn fat, boost metabolism, and help you get a lean body. Read on to decide if this CLA supplement is worth your dollars.
Ingredients
Essential Elements CLA is 80% conjugated linoleic acid meaning that every 1000 mg capsule contains 800 mg of CLA. The CLA is said to inhibit enzymes and redistribute triglycerides promoting fat burning and encouraging a lean body mass buildup. The supplement has no added preservatives, additives, or fillers. Vegetable cellulose makes up the capsules. Other ingredients are Gelatin, purified water, and glycerine.
Dosage
Essential elements recommend a dosage of one capsule three times a day with a full glass of water. Each capsule is 1000 mg (with 800 mg of CLA).
Possible Side Effects
Pregnant or nursing women, people showing signs of dementia or Alzheimer's, and individuals taking diabetic medication should not take this supplement. Also, the manufacturer recommends that you talk to your physician if you have any preexisting conditions that might affect the strength of CLA supplements.
Price
At the time of our review, Essential Elements offered three packages to choose from on its website:
1 bottle (30-Day Supply) sells at only $49.95
3 bottles (90-Day Supply) will cost you $139.95 ($46.65 per bottle) plus free shipping
6 bottles (180-Day Supply) retails at $224.95 (37.49 per bottle) with free shipping
We did not find any information concerning discounts, offers or coupons.
Guarantee
Essential Elements feels confident this product will work for you and give you a full year to decide if your order lives up to its claims. If it does not, you can return used and unused product with a maximum of two unused bottles for every return, and get your money back, minus shipping fees. The manufacturer also charges you a 15% return processing fee from the total amount refunded. Essential Elements provides a return address on its website. The two testimonials on the manufacturer website can be taken with a grain of salt.
Summary of Our Essential Elements CLA Review
Essential Elements CLA looks has promise for people looking to cut weight and build a lean body. This product is made in the USA in a cGMP certified facility. It also undergoes third-party quality and safety checks.
However, the lack of customer reviews makes it difficult to attest to its effectiveness or potency. Also, while Essential Elements has a high concentrations of CLA ((80%) there other products out there that have a higher concentration. Finally, this product is very expensive compared to other CLA products on the market.
If you want an average product that is good enough, Essential Elements CLA, could be your choice. However, if you are looking for a supplement that delivers, and considers your wallet, keep looking.
Top investigative research brought to you by the experts at Customer Review.