Absorb Health Conjugated Linoleic Acid Review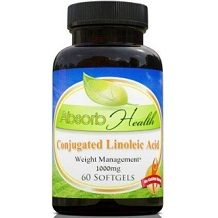 Today we are reviewing a product called Absorb Health Conjugated Linoleic Acid.The makers of this product claim that this supplement can increase your metabolic rate and therefore promote weight loss. In addition, Absorb Health says that the supplement can help build muscle and burn fat.
Ingredients
The primary and only ingredient in this product is 1000mg of CLA. This is a sufficiently high amount of CLA per capsule. The capsules contain gelatin and glycerin and are therefore not suitable for vegetarians or vegans.
Dosage
We could not find dosage instructions on the product label nor website. This is troubling because the risk is that users will either take too much or too little of the supplement.
Possible Side Effects
Consult a licensed health care professional before using, especially if you are pregnant or have any pre-existing injuries or medical conditions.
Price
You can purchase this supplement online directly from the manufacturer's website. One bottle of sixty softgel capsules costs only $9.99. (However without knowing the dosage, it's hard to know how long this bottle of capsules will last). In addition, the manufacturer offers a 5% discount coupon which you can use by clicking on the  Take 5 coupon. There are no additional discounts offered by the manufacturer for bulk purchase orders. Shipping is an extra cost, but is free if you spend over $75.
Guarantee
The company provides a 100% money back guarantee. They state that if for any reason you are not satisfied with your purchase, you can return it within 90 days of your initial purchase for a full refund. The return shipping is your responsibility. It is unclear if the company provides a refund for opened bottles of capsules but we can assume not in the absence of any specific instructions.
Conclusion of Our Absorb Health Conjugated Linoleic Acid
In summarizing our review of Absorb Health's Conjugated Linoleic Acid, we were encouraged by several aspects about this product; the price is very reasonable at only $9.99 for a sixty count bottle of capsules. There is a 5% discount offered buy the manufacturer available at check out. There is free shipping when spending over certain threshold. There is a ninety day guarantee and return policy. This product includes 1000mg of CLA which is an optimal level to provide beneficial results for weight loss. On the less positive side, we were disappointed by the lack of a bulk buying discount. The return policy was good but could be better by allowing the return of opened bottles of capsules and refund of return shipping costs. In terms of dosage instructions, we were surprised that the manufacturer does not specify the correct dosage amounts. Without knowing the dosage, you risk either taking too much or too little. Also, you can't know how long one 60 count bottle will last if you  don't know the daily dose. The free shipping benefit only kicks in at the $75 threshold which is way too high considering this product only costs $9.99 per bottle. The lack of customer reviews makes it difficult to determine the product's effectiveness beyond the company's claims. We recommend that you look for a CLA supplement that has a clear and reliable set of instructions for dosage, one that provides a bulk purchase discount, and one that has a broad body of consumer consumer reviews.
Top investigative research brought to you by the experts at Customer Review.