Ab Cuts Sleek & Lean Midsection Solution Review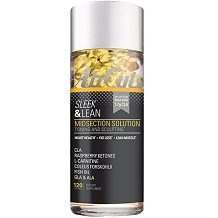 There are innumerable weight loss supplements out there for you to choose from. What you don't see every day, is a product that is designed to target a specific area of your body with its weight loss enhancing ingredients. This review of Abs Cut Sleek & Lean Midsection Solution is our in-depth look at such a product, which aims to give you real results in a stubborn part of the body. This review should give you all of the facts that you need to make an informed decision about whether it is right for you.
Ingredients
CLA Oil (Safflower) – This ingredient is said to have a two-fold function. It helps to boost metabolism and it also improves the overall function of the immune system.
Fish Oil – Primarily used to lower triglyceride levels
Raspberry Ketones – Breaks down fat cells to be more easily burned. Boosts metabolism to help fat cells burn faster.
Borage Oil – Anti-inflammatory ingredient
Flaxseed Oil – Introduces more Omega-3 acids to aid your metabolism in burning fat.
Sesame Seed Oil – Protein based ingredient to help burn fat and build muscle
L- Carnitine – Burns fat and turns it into energy
Forskolin – Increases muscle mass (burning fat reserves in the process)
Dosage
As a dietary supplement, which is its primary function on the market, the recommended dosage of this product is 2 – 3 softgels with each meal. Users are warned against taking this supplement in excess of the recommended dosage.
Possible Side Effects
There is a long list following the obligatory warning about consulting a physician if you're pregnant, nursing or on any medications. There seem to be specific concerns about taking this along with any other dietary supplements, or using it at all without an okay from your doctor if you have a family history (or currently have) any medical condition. Complications could result from combining this supplement with:
Anti-coagulants
Anti-diabetic medications
Anti-hypertensive medications
Any over the counter medication
Chitosan supplements
Price
To purchase a bottle of 120 softgels, you are looking at spending just over $40, on average. This is significantly higher than a lot of other compounds out there, many with at least some of the same active ingredients, though this specific blend isn't common. Perhaps you get what you pay for, as we found no negative or middle-ground user reviews for this product. If they are to be believed, users are overwhelmingly happy with their results.
Guarantee
Through our research, it seems there is a money back guarantee but the details are unclear as to how you go about getting that money back if you are dissatisfied.
Conclusion – Ab Cuts Sleek & Lean Midsection Solution Review
There are several positives when it comes to this product: It has received high praise in online user comments and it certainly contains many ingredients for weight loss and metabolism boosting.
Unfortunately, there are going to be drawbacks associated with pretty much any product. The negative aspects of this one are its high price, unclear guarantee, and the numerous warnings associated with its use.
While it appears as though results could be obtained by purchasing this product, the drawbacks could give many potential buyers cause to pause. Take some time and consider if this product is really the one you've been waiting for.
Top investigative research brought to you by the experts at Customer Review.