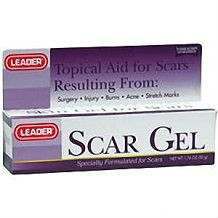 Leader Scar Gel is one of the many products in the market designed to help in scar treatment. It is a naturally formulated gel that claims to have capabilities to facilitate natural scar treatment besides many other claims that every other product also makes. Below are some of them:
Topical aid for scars resulting from surgery, injury, burns, acne or stretch marks:
Made with Cepalin botanical extract;
Clinically shown to soften, smoothen and reduce the appearance of old and new scars; and
Doctors and pharmacists recommend the  gel  for scars;
In regard to its packaging and marketing, this product employs the traditional norms, ways and tools that we are all familiar with. This means that you can find this particular product packaged in the usual packages/bottles and you can access it through the traditional channels of distribution either by walking into that drug store or outlet near you or by ordering for it online.
Ingredients
Leader scar Gel is made with the following main ingredient:
Cepalin botanical extract- this is a natural ingredient that has been specifically formulated to help minimize, soften, and smoothen the appearance of both old and new scars. The ingredient has also been clinically proven to be effective.
Dosage
Make sure that you only apply the scar gel on wounds that have closed. Clean the area and apply once a day for 8 weeks in the case of new scars and 3-6 months for existing old scars.
Side Effects
Hitherto there are no known adverse side effects arising from the usage of this product.
Price
Each 1.76 oz tube goes for $7.07.This is a pocket-friendly price. However there are no special discounts accompanying its purchase besides the usual offers from individual resellers.
Guarantee
This product lacks a money- back guarantee and that means you too lack a fall-back to resort to in the event that it doesn't perform as per expectation. There are however   a few unclear and indefinite money-back guarantees on e Bay but they don't have defined timelines and only apply for unused and unopened items.
Conclusion of Leader Scar Gel Review
It is very concerning when the manufacturers of a product don't provide a guarantee for their Product. Without it, it would only mean to the consumer that they have no confidence in their own product.
Top investigative research brought to you by the experts at Customer Review.