Kelosil Silicone Scar Gel Review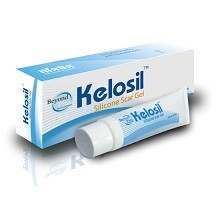 Kelosil Silicone Scar Gel is one of products in the market that helps in scar treatment. The gel, as well as many other products in the same category, claims to be an effective solution for scars. Beside this, there are many other claims that accompany different aspects of its functionality. Below are some of these claims:
Kelosil Silicone Scar Gel helps to flatten the following raised scars: Keloid scars, Hypertrophic scars, and burn scars;
Fast drying;
Reduces redness;
It increases hydration of stratum corneum and thereby facilitates regulation of fibroblast production and reduction in collagen production;
No preservatives and causes no irritation;
Reduces scar irritations and itching; and
Can be used for both old and new scars.
In regard to its packaging and marketing, this product employs the traditional norms, ways and tools that we are all familiar with. This means that you can find this particular product packaged in the usual packages/bottles and you can access it through the traditional channels of distribution either by walking into that drug store or outlet near you or by ordering for it online.
Ingredients
This product is concocted using the following ingredients:
Cyclopentasiloxane 84%
Dimethicone 15%
Lanolin 1%
DCPX complex-an ingredient that enables the gel to dry in just a few minutes.
Dosage
For usage of Kelosil Silicone Scar Gel, apply on dry and clean skin two times a day. Use continuously for 60 to 90 days. The product should not be applied on open and fresh wounds.
Side effects
To this far there are no known adverse side effects arising from the usage of this product.
Price
Each 10 g tube costs $64.99. This price makes this product pass for an expensive product. Besides there are no special discounts from the manufacturers accompanying this gel.
Guarantee
This product lacks a money- back guarantee and that means you too lack a fall-back to resort to in the event that it doesn't perform as per expectation.
Conclusion of Kelosil Silicone Scar Gel Review
As we wind up, we can draw the following conclusions in regards to this product. It is sought after for its reputation, but hardly meets the requirements of that reputation. It does not have a guarantee in sight and it is also not FDA inspected.
Top investigative research brought to you by the experts at Customer Review.