Medicine Mama's Sweet Bee Magic Review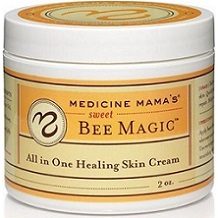 Today we review Medicine Mama's Sweet Bee Magic. By hydrating the skin, this cream delivers the nutrition your skin needs to properly heal. This lotion will help to heal cuts, scrapes, and burns, but also diminishes the look of the scars that may be leftover.
Ingredients
Organic Extra Virgin Olive Oil
Organic Cera Alba
Organic Honey
Bee Pollen
Royal Jelly
All ingredients used in this cream have been certified organic. While these ingredients do form a great, moisturizing lotion, some essential ingredients for the healing of scars are missing. Aloe Vera and Vitamin C really helps to diminish the look of scars.
Dosage
To help reduce the look of a scar, take a dollop of the lotion and massage it gently into the affected area. The beeswax is specially formulated to be gentle enough that you can use this product on your face and on sensitive skin, but many customers did report it was too oily to use on their face.
Possible Side Effects
We were unable to find any listed side effects or warnings for this supplement. Even the safest supplements and medicinal lotions have simple warnings to keep away from children or to consult with a doctor before adding something new to your daily routine. Without even simple warnings, it shows that this manufacturer may have something to hide.
Price
This lotion is available in a 2 ounce jar and a 4 ounce jar. The smaller size costs $24.99 while the larger jar costs $39.99. This price is about average for scar removal products. Unfortunately, we found no additional discounts or the availability for free shipping.
Guarantee
The only information we found about a guarantee or returns was listed in the manufacturer's FAQs. Instead of listing their actual policy, they give you an address of where to send your returned merchandise and original invoice. It is not stated, however, what will happen when you actually send back your product. The company does not promise or offer a refund or even an exchange for customers that send back an unwanted product. It is important to be weary of something like this, because if you decide to return your lotion, you could be out of both your money and your product.
Conclusion of Our Medicine Mama's Sweet Bee Magic Review
There are a few things we liked about Medicine Mama's Sweet Bee Magic. All of the ingredients in this product are certified organic. Also, the price of this cream is about average when compared with other scar treatments.
Unfortunately, we had many concerns in regards to this product. First of all, while the ingredients do help moisturize your skin, there are no specific ingredients to target your scars and help diminish their looks. Secondly, there are no warnings at all listed for this product, even that those suffering from bee allergies should avoid using this product. Next, many customers reported that this cream was too oily to be able to use on their face. Lastly, the company offers no real return policy or money back guarantee. Instead, they offer an address to send your unwanted products, with no promise that you will receive a refund. For these reasons, we cannot recommend this balm to help reduce the look of your scars.
Top investigative research brought to you by the experts at Customer Review.