Scar Away Silicone Scar Gel Review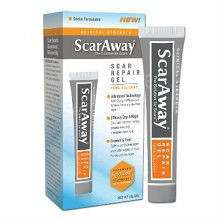 This Scar Away Silicone Scar Gel review is going to take a closer look at the facts and details to learn more about how this scar treatment works and to see whether or not it's worth trying out for reduced scar appearance. The manufacturer claims that their silicone gel will work on newly healed and on visible older scars that include hypertrophic scars and keloids.
Ingredients
Polysiloxanes
Silicon Dioxide
Silicones are also referred to as Polysiloxanes. Polysiloxanes are a type of polymer that is made of repeating units of siloxane which are a chain of alternating silicon atoms and oxygen atoms. It helps heal scars by protecting the scarred tissue from bacteria and it increases hydration of the stratum corneum. The manufacturer does not have the amounts of each ingredient on their website. Without knowing how much of each ingredient there is in every serving there is no way for us to know if it is enough to be effective.
Dosage
You can begin applying Scar Away as soon as the wound you are looking to treat is closed and any stitches have been removed. Scar Away is suitable for use on children or people with sensitive skin. The manufacturer does not provide any additional detail about how or how much product you are supposed to apply and does not provide further information on how to safely use this product.
Talk to your doctor before using this gel if you are pregnant, nursing or have a known medical condition.
Possible Side Effects
There is the possibility that a sweat rash can occur. In the event that you do experience a reaction, stop using the gel. Once your skin has returned back to normal you can begin reapplying the gel for short periods and gradually increase the wearing time until a comfortable maximum has been reached.
Price
You can purchase Scar Away exclusively from third-party retailers. One 0.35 OZ tube costs $11.93 online. They do not offer any discounted bulk purchasing packages but that can vary according to the manufacturer you purchase from.
Guarantee
We were unable to find any mention of a manufacturer's guarantee and it appears that they do not offer one.
Conclusion of Our Scar Away Silicone Scar Gel Review
Scar Away Silicone Scar Gel appears to be a promising scar treatment. It uses silicon as its primary ingredient which has been shown to have the ability to heal damaged skin and it comes in an easy to apply gel for convenience. However, this product is not backed by a manufacturer's guarantee which means that if you purchase this product and are dissatisfied in any way, you cannot get your money back from the manufacturer. The lack of a manufacturer's guarantee also suggests that the manufacturer is lacking confidence in their product's ability. The lack of a manufacturer's guarantee is especially risky because the consumer feedback we saw reported that this product does not work. Consumers reported that after continuously applying this gel as instructed by the manufacturer, they did not see any difference in the appearance of their scars. With so many scar treatments available on the market, you are better off choosing one that is backed by a strong manufacturer's guarantee for consumer protection and one that has been shown to have effective results for real users.
Top investigative research brought to you by the experts at Customer Review.