Diva Stuff Acne Scar Cream Review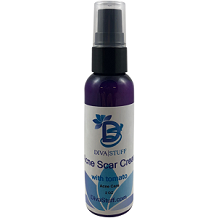 Today we review Diva Stuff Acne Scar Cream. Formulated with natural ingredients like tomato and cucumber, this product will help reduce the look of acne scars. With the help from lemon, dark spots will also lighten and fade.
Ingredients
Water
Tomatoes
Cucumbers
Lemon Butter
Jojoba Oil
While each of these ingredients help our skin in some way, many of the most important ingredients for skin care and scar diminishing are missing from this list. Nutrients like Aloe Vera, Lavender, and Vitamin C are essential to getting rid of scars naturally.
Dosage
This lotion comes in a pump spray bottle. The manufacturer's listed directions are to massage this oil into your dry, clean skin as often as desired. There are no specifics as to how much of this spray is needed or how long it will take before results will show.
Possible Side Effects
While there are no side effects or warnings listed on the manufacturer's website, many customer reviews share problems they had with this product. One of the most recent reviewers stated that the product's formula recently changed, and the new oil has caused break outs, burns your skin, and leaves a greasy residue. Another review stated that there is missing information regarding ingredients. When the product arrived, it was written on the bottle that there is also almond oil, which the customer has a severe allergy. Without this information listed on the website, this could cause serious harm to customers who are not as careful.
Price
One 2 ounce bottle of this spray costs $12.99. This price is much less expensive than most of its competitors, which brings up the question of the true effectiveness of this product. We found no available discounts for this product, but that could also be due to the already low price.
Guarantee
After a thorough search of their website, this company lists no guarantee and no return policy for their products. In their FAQs, it requests that customers go to the Terms and Conditions to read their return policy, but again, there was nothing listed. The closest thing we found to a guarantee was a statement that these products come as-is, with no types of warranties. They also make the statement that they are not at fault for any misinformation within their website, like the wrongfully listed ingredients. This shows that this company only cares about selling products and does not care about the true satisfaction of their customers.
Conclusion of Our Diva Stuff Acne Scar Cream Review
There are a few things we liked about Diva Stuff Acne Scar Cream. The listed ingredients are all 100% natural. Additionally, this comes in an easy to use spray bottle which will create less of a mess when you apply the lotion.
Unfortunately, we had far too many concerns with this product. First of all, customer reviews stated that the list of ingredients on the website is wrong, which could cause serious allergic reactions or other harm to unknowing customers. Secondly, the dosing instructions are not clear enough about how much of this product to use per application. Next, there were many side effects reported by customers that are not listed. Lastly, and by far our biggest concern, is the fact that, instead of a guarantee, the company states that their products have no warranties of any kind and that the company will not take responsibility for wrong information listed on their website. For these reasons, we cannot recommend this product to help you reduce the look of your acne scars.
Top investigative research brought to you by the experts at Customer Review.