Potent Organics CLA Review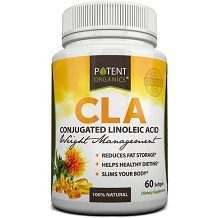 Potent Organics CLA Supplement claims to speed fat reduction and boost muscle growth when used in conjunction with exercise. It also says it helps with post-workout muscle retention. Read our review to learn more about this product.
Ingredients
Primary Ingredient
Conjugated Linoleic Acid  (1000 mg)  (which contains the following):
Conjugated Linoleic Acid (780 mg)
Oleic Acid (150 mg)
Palmitic Acid (30 mg)
Stearic Acid (30 mg)
Linoleic Acid (10 mg)
Secondary Ingredients
Gelatin
Glycerin
Purified Water
Carmel Coloring (Capsule Shell)
These ingredients are standard for CLA supplements. However, studies have indicated that for maximum weight loss and muscle building a supplement should contain 85% CLA. Potent Organics CLA Supplement falls short at 78%.  Also, it seems somewhat disingenuous for a product with the word "Organics" in the title to contain no certified organic ingredients. In addition to this, we were troubled that there is no indication that this supplement carries a third-party backed purity guarantee.
Dosage
The manufacturer recommends taking one softgel twice daily with food.
Possible Side Effects
The manufacturer lists no side-effects associated with this product, but some reviewers have reported stomach pain. This is where a guarantee of purity would be reassuring.
Price
Potent Organics CLA Supplement is available for $24.73 from the manufacturer for a bottle of 60 softgels.  There is no indication of discounts for bulk purchases. The manufacturer only ships within the United States. At the time of this review you could also buy the same 60-softgel bottle on Amazon for $14.22. The discrepancy in pricing is unusual.
Guarantee
The manufacturer offers a limited 90-day refund policy. To receive a refund the item must be returned unused and in the original packaging. This obviously does not afford the customer a chance to test the product and seems to indicate a lack of confidence in the effectiveness of the supplement on the part of the manufacturer.
Conclusion of Our Potent Organics CLA Supplement Review
There are some things to like about Potent Organics CLA Supplement.  It has a simple ingredient list with no unnecessary fillers, colors or flavoring and the gel capsules are easy to swallow. Its Amazon customer feedback rating was also good as we went to press, with 79% positive and 13% negative from 75 reviews.
Unfortunately, these factors do not outweigh our concerns.  First, there is the percentage of CLA contained.  It falls short of that recommended for optimum fat-burning by nearly %10. Secondly, there is no third-party backed guarantee of purity and potency.  We believe supplements should be both safe and effective. Lastly, there is the lack of a strong money-back guarantee that leads us to doubt the product's effectiveness in aiding weight loss.
Top investigative research brought to you by the experts at Customer Review.