Cell Nutritionals Conjugated Linoleic Acid Review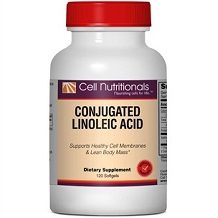 We've reviewed Cell Nutritionals Conjugated Linoleic Acid based on the dosage of conjugated linoleic acid that it provides and the customer support that the manufacturer offers to determine the overall quality of the supplement. Conjugated linoleic acid (CLA) is a compound that is derived from natural sources, and it has been proven to assist people with weight loss.
Ingredients
The only active ingredient in this supplement is conjugated linoleic acid in the form of safflower oil. Conjugated linoleic acid is a naturally-occurring fatty acid that is necessary for normal biological functions. Fatty acids are incorporated into cell membranes and used as signalling molecules to send chemical messages in the body.
One of the messages it sends is to fat cells to tell them to reduce the amount of fat that take up. Another message it sends is to some hormone secreting cells which are normally responsible for secreting the hormones that cause hunger.
Another thing that conjugated linoleic acid does is reduce levels of cholesterol in the blood. This is highly beneficial to a person because it reduces the risk of developing cardiovascular disease.
Dosage
Two capsules of Cell Nutritionals Conjugated Linoleic Acid must be taken every day. The best way to take them is one capsule at two different times in the day with a meal each time. The two capsules together give a dosage of 2000mg of safflower oil which contains between 74% and 80% conjugated linoleic acid.
Possible Side Effects
There are no major side effects reported with the use of conjugated linoleic acid as a dietary supplement. There are some reports of nausea and an upset stomach when using conjugated linoleic acid, but these effects don't stay for long and they're not very common. Pregnant women, breastfeeding mothers and people with chronic medical conditions should consult a doctor before using this supplement.
Price
The price of 120 capsules is $11.93, and $4.95 for shipping in the United States of America. This manufacturer doesn't offer any form of discounts whether for buying multiple packages of the product at once nor as a subscription service, but they do offer free shipping for all orders that exceed $99.
Guarantee
Each product is independently tested for its purity. If customers are still not satisfied however, they have 60 days from when they receive the product in which to contact the manufacturer and arrange a return. When returning a product that has already been opened, only one opened bottle may be returned per customer. The rest of the products must be sealed in order for the customer to obtain their refund.
Conclusion of Our Cell Nutritionals Conjugated Linoleic Acid Review
The dosage of conjugated linoleic acid in this product is quite close to that which is discussed in scientific literature but it is slightly low. This means that it's possible that the supplement may not be as effective as the CLA that was used in the scientific research that studied its effects. The price is quite affordable, and the guarantee is quite fair. This product is not a bad one, it just has slightly questionable effectiveness.
Top investigative research brought to you by the experts at Customer Review.