SAN Nutrition Pure CLA 1250 Review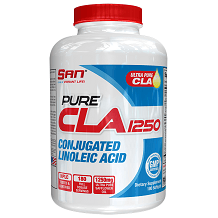 Conjugated linoleic acid, commonly known as CLA is said to aid in burning fat by allowing the body to access fat stores more readily and may also aid in building lean muscle mass. Amounts ingested through an ordinary diet are often insufficient for this purpose. Many people seeking to improve their health choose to take a CLA supplement.  SAN Nutrition claims its product helps prevent fat accumulation, converts existing body fat into energy, supports lean muscle growth, improves cholesterol levels and enhances the immune system. Please read on to learn if this product is right for you.
Ingredients
Primary Ingredients
Secondary Ingredients
Bovine Gelatin
Glycerin
Purified Water
Caramel
These ingredients are similar to many conjugated linoleic acid supplements.  We appreciate that there appear to be no artificial flavorings, colorings or fillers. However, we were disappointed to see that the percentage of CLA falls short of 85%, the amount recent studies found to be optimal for building muscle and losing fat. In addition, the manufacturer indicates that it produces Pure CLA 1250 in a facility that also processes several common allergens, such as shellfish, nuts and eggs.  Therefore individuals with sensitivities may wish to exercise caution when considering this product.
Dosage
We found some confusion about the dosage. Instructions varied depending on the bottles we examined. On average, the manufacturer recommends consuming one capsule three to four times daily, with a meal, but not to exceed six capsules.  This large variance has the potential to render the product either ineffective or dangerous.
Possible Side Effects
The manufacturer listed no side effects but suggested caution when used by individuals with conditions varying from pregnancy to enlarged prostate.
Price
Depending on the size of the bottle, the manufacturer's price, at the time of this review, for SAN Nutrition Pure CLA 1250 varied from $5.24 (for 18 capsules) to $29.96 (for 180 capsules). The 180-count version could be bought on Amazon for $27.32.
Guarantee
SAN Nutrition offers what we consider to be a minimal 30-day guarantee. Losing weight and building muscle are long-term goals, and while results are certainly possible after only a month, they often take longer. We feel that this guarantee does not allow the consumer a reasonable amount of time to test the product.
Conclusion of Our SAN Nutrition Pure CLA 1250 Review
San Pure CLA 1250 Review has positive traits. The ingredient list includes no unnecessary or artificial colors, flavorings or fillers and it comes in easy-to-swallow gel capsules. And while it had good Amazon customer ratings at the time or our review, there were only a handful. But our concerns outweigh these positives. The percentage of CLA in each capsule does not reach that recommended for effective fat-burning and muscle growth. In addition there is the confusion over dosing instructions. Finally, we feel the lack of a strong guarantee indicates both a disregard for the consumer and a lack of confidence in the product.
Top investigative research brought to you by the experts at Customer Review.