CLA Tonalin Natural Factors Review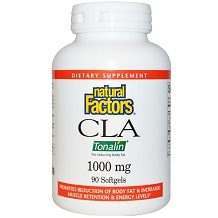 Studies have indicated that conjugated linoleic acid or CLA may be useful in improving overall health by speeding up fat burning and promoting the growth of lean muscle mass. Natural Factors claims that its CLA Tonalin achieves this by interfering with fat-storing enzymes and increasing insulin sensitivity to build muscle mass. It differentiates itself by calling out that it is sourced from 1005 wild Alaskan Salmon.
Ingredients
Primary Ingredients (mg per two-capsule serving size)
Secondary Ingredients
Glycerin
Purified Water
Caramel
These are typical ingredients for a CLA supplement. While the Tonalin formula is not used by as many, it is still relatively common.
Dosage
Natural Factors suggests taking one to two gel capsules three times a day before meals.  This results in a widely varying dosage size.  Too little conjugated linoleic acid may have no effect and too much may be dangerous.  We would prefer a clear and firm dosing guide.
Possible Side Effects
The manufacturer lists no side effects.  However, a third-party backed claim of purity would increase our belief in the safety of the product.
Price
Natural Factors does not sell this product directly. At the time of writing this review you could buy the 180-capsule bottle for $39.17 while a "bonus pack" containing two 60-count bottles cost $23.98.
Guarantee
It appears that the manufacturer does not offer a guarantee.  This is highly troubling.  We feel that guarantees reflect the producer's confidence in the safety and effectiveness of its product.
Conclusion of Our Natural Factors CLA Tonalin Review
There are some good things about CLA Tonalin by Natural Factors.  The simple ingredient list seems to contain no artificial fillers, colors or flavoring.  Reviewers have reported the capsules are easy to swallow. And Amazon customer ratings were notably positive at the time of writing (although there were too few to fully rely on them as an indicator of quality).
But our concerns far override these pluses. The percentage of CLA is less than preferred. We found no evidence a third-party guarantee of purity and potency, leaving room to doubt the efficacy and safety of this product. And finally, Natural Factors appears to offer no guarantee for its CLA Tonalin. We cannot fully believe in any product that the manufacturer does not support.
Top investigative research brought to you by the experts at Customer Review.