Bluebonnet Clarinol CLA Review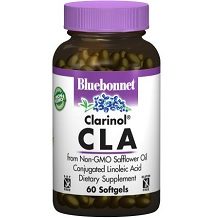 We've taken a look at Bluebonnet Clarinol CLA and determined its quality as a supplement, based not only on its ingredients and dosage but also on the customer service that the manufacturer offers. CLA is short for conjugated linoleic acid, which has recently been proven as an effective weight-loss supplement.
Ingredients
This supplement contains safflower oil which is 78% conjugated linoleic acid. Conjugated linoleic acid has been proven effective by science in assisting people with weight loss. Some scientists have discovered that this is because it acts as a chemical messenger that prevents the maturation of fat cells. This prevents them from taking up and storing excess fat and instead it is released and broken down for energy.
Conjugated linoleic acid is also important for normal biological functions. This is because it is a naturally occurring fatty acid. Fatty acids are used to produce cell membranes, and then from there, they are transformed into chemical messengers. Some of these messages are important for mounting a good inflammatory response to fight off disease and others are good for promoting an anti-inflammatory and healing response.
Dosage
One capsule of Bluebonnet Clarinol CLA can be taken everyday as a dietary supplement. Each capsule contains 780 mg of CLA which is about half of the highest dosage available on the market. It is difficult to say whether the ingredient is effective at this dosage because scientific data suggests 2000 mg is optimal.
Possible Side Effects
The side effects of CLA include an upset stomach and diarrhea, but these side effects usually pass and only occur in a very small proportion of people. Otherwise, pregnant and nursing mothers should seek the guidance of a healthcare practitioner before using this supplement as there is not sufficient research to support the safety of CLA in those conditions.
Price
60 soft gel capsules are available for purchase at $17.04 and 90 capsules at $19.60. This price does not include shipping and taxes and there are no discounts offered for any subscription services or for buying in bulk.
Guarantee
We could not find any evidence of a guarantee or a returns policy for this manufacturer. This unfortunately suggests that they are not entirely convinced that their product is 100% effective and so customers could waste their money on a product that does not work.
Conclusion of Our Bluebonnet Clarinol CLA Review
Bluebonnet Clarinol CLA is one of the weight loss supplements that doesn't simply make false claims because it does contain an ingredient that is scientifically proven to assist with weight loss. However, the dosage that it contains is lower than optimal, so it may not be as effective as other CLA supplements.
What is also concerning is that the manufacturer doesn't offer any form of guarantee so customers take a big risk when purchasing this product, because they might spend money on a product that doesn't work. It makes more sense for customers to search for CLA supplements that are protected by a satisfaction guarantee, because then they can reap the benefits of CLA and if they aren't happy, at least they're haven't wasted money on it.
Top investigative research brought to you by the experts at Customer Review.