MintAsure Fresh Breath Capsules Review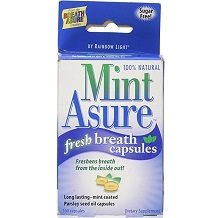 This is a review of MintAsure Fresh Breath Capsules which are designed to give you instantly fresh breath by releasing after-meal odors from your system which leave powerful odors in your mouth.  This dietary supplement is a 100% natural product with no sugars or sweeteners, which mainly utilize parsley seed oil to neutralize bad breath, and it comes in a refreshing mint flavor.
Ingredients
Primary Ingredients:
Parsley Seed Oil – 16mg
Xylitol (from Birch tree) – 126 mg
Secondary Ingredients:
Kosher Gelatin
Purified Water
Glycerin
Natural Peppermint Flavor
Acacia Gum
This product contains no gluten, wheat, milk or dairy, nuts, soy, eggs, fish, or shellfish.
Dosage
Instructions for taking BreathAsure is to swallow, not chew, 2 or 3 MintAsure capsules with water or a fluid of your choice after eating.  Individuals are advised to consult their doctor or health care professional if pregnant, nursing, taking other medications, or individuals with any other medical conditions.
Possible Side Effects
There are no side effects listed by the manufacturer on the website about side effects connected with using MintAsure Fresh Breath Capsules.
Price
MintAsure Fresh Breath Capsules comes in two bottle sizes; one with 75 capsules and the second with 160 capsules.  On the manufacturer's website, 1 bottle with 160 capsules costs $12.79 plus $7.95 shipping for a total of $20.74; 75 capsules bottles cost $7.39 plus $7.95 shipping for a total of $15.34.
Third party websites offer multiple packs of the product; a 3-pack of 160 count capsules for $30.15; a 6 pack of 75 count capsules for $33.39, and individual packages of 75-count capsules for $4.49.
Guarantee
We could not find a satisfaction guarantee offered by the manufacturer for this product. Given the cost of this product and the fact that the company does not appear to back its product by guaranteeing customer satisfaction, this reflects a lack of confidence in the product for both the customer and the manufacturer alike.
Conclusion of Our MintAsure Fresh Breath Capsules Review
MintAsure Fresh Breath Capsules are a 100% natural and can be conveniently purchased online.  With increasing attention to personal hygiene and unpleasant bodily and breath odors, consumers will appreciate that it is both sugar-free and lactose-free, supports oral health without promoting tooth decay, and has a refreshing mint flavor.
Unfortunately, the manufacturer's website offered no reviews of this product, and third-party website reviews were fairly old at this point.  This points, we think, to the fact that this product is no longer competitive and widely used in the market at this time, and to the fact that there are so many exceptional competing products available with research supporting scientific data which supports the carefully crafted combination of ingredients best used to attack this problem. In fact, the use of parsley oil to neutralize bad breath does not seem to be the leading ingredient in newer products being sold whose aim it is to combat bad breath.  The six ingredients clinically proven for treating malodors include probiotics, Green Tea, chlorophyllin, peppermint, fennel and magnolia, none of which are contained in this product. For these reasons, and the high price of this product, we do not wholly recommend this product at this time.
Top investigative research brought to you by the experts at Customer Review.