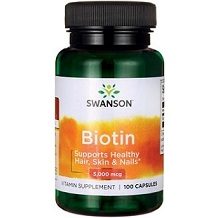 Today we are reviewing Swanson Premium Biotin. The manufacturer of this supplement claims that it will enable you to grow healthy and strong skin, nails, and hair, and enhance the uptake of energy to our cells improving your metabolism. This supplement contains 5000mcg of biotin per serving which is low compared with competitors.
Ingredients
The only main ingredient in this supplement is 5000 mcg of biotin. This is a low amount of biotin when compared to its competitors who offert twice that amount. With such a low daily dose of biotin, you may not see the results that you were hoping for. The capsules also contain non vegetable gelatin and are therefore not suitable for vegetarians or vegans.
Dosage
Take one capsule daily with a full glass of water. Since each pill only contains 5000mcg, we are concerned that it is too low an amount to provide the optimum benefits of a biotin supplement. Consult your healthcare practitioner before use if pregnant, nursing, taking any medications or have any medical condition. Discontinue use and consult your healthcare practitioner if any adverse reactions occur. Keep out of reach of children.
Possible Side Effects
There are no side effects listed on the label nor on the company website. Biotin is known to be a safe, non-toxic vitamin and has not been associated with any serious side effects, even in large doses.
Price
On the company website, a 30 count bottle of pills costs $2.09. This is a month's supply if taking one pill per day. This price is so low that we wonder if the pills actually contain anything other than a placebo. In addition, the company website offers 10% off for first time customers, and free shipping if you if you spend over $50 provided you sign up for recurring orders.
Guarantee
Although the website says that if you are dissatisfied for any reason, they will give a full refund and pay return shipping, we were not able to find specific information about either a guarantee nor a return policy. A unspecific promise is not worth much to the consumer.
Conclusion of Our Swanson Premium Biotin Review
There are a few things we liked about Swanson Premium Biotin. The product is priced very well at only $2.09 for 30 capsules. The site offers 10% off and free shipping when spending over $50 when signing up for recurring orders. We do have a number of concerns however. Firstly, we were not able to find specific information about either a guarantee or a return policy. Next, the daily dose this supplement only provides 5000mcg of biotin. At this amount, we feel that they do not offer enough daily biotin for optimum results. Free shipping only kicks in after spending $50 which seems high considering one bottle only costs $2.09. Other than the 10% off, there is no other new customer incentive. We recommend that when shopping for a biotin supplement that you seek out one that has an adequately high amount of biotin in it ideally (10,000mcg), and that the supplement itself is backed by a reliable guarantee and return policy statement.
Top investigative research brought to you by the experts at Customer Review.