Nutrifactor Biotin Plus Review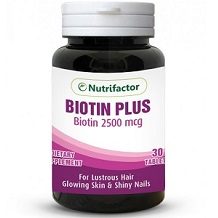 Today we review Nutrifactor Biotin Plus. This supplement helps to strengthen your brittle nails while providing the nutrients your hair and skin need to grow healthier. These specific tablets also claim to protect against the damage of free radicals.
Ingredients
Each tablet contains only 2,500 mcg of Biotin, which is equivalent to only 2.5 mg. Clinical studies have proven that biotin supplements need 10,000 mg per day to be optimally effective. With such a tiny amount of this nutrient in each capsule, this supplement will be closer to a placebo effect than anything.
Dosage
The manufacturer recommends taking one tablet daily. The tablet should be taken after a meal with a glass of water. With only one capsule per day, you will not be getting enough of this nutrient to have any effect whatsoever on your skin, hair, or nails.
Possible Side Effects
The only listed warning for this product is that you should read the label before taking this supplement. It makes sense that there are no listed side effects, since there is not enough of either main ingredient to cause any reactions within your body.
Price
One bottle of 30 capsules costs $10.71. While this price is relatively cheap, you can purchase bottles of biotin supplements with 5000 mg or more of the nutrient for around the same price. Free shipping is available for purchases of over $15. Additionally, if you buy this product in bulk, you can save even more money. Purchasing 2 bottles together brings the total cost to $19.98, while buying 3 bottles together brings the price to only $29.96.
Guarantee
After thorough searching of the manufacturer's website, we found no information about a money back guarantee or a return policy. While there was a contact page, the only listed phone numbers were international, making them extremely expensive to call from the US. There is one email address available, but with only one way to contact the manufacturer in case of problems, if will be extremely hard to ensure you get a response. Without a return policy or a reliable way to contact the company, it shows they do not stand behind their products. This, along with the tiny amount of biotin, give us huge concerns about how effective this product will be.
Conclusion of Our Nutrifactor Biotin Plus Review
There are a few things we liked about Nutrifactor Biotin Plus. The recommended dose for these tablets is one, easy to remember capsule per day. Also, the price is very low for this supplement.
Unfortunately, we found many red flags in regards to this product. With less than 3 mg of biotin per serving, when the scientific recommendation is 10,000 mg per day, this supplement will act more like a placebo than a true dietary supplement. This explains why the price is one of the lowest on the market, since the quality of the ingredients is not worth a higher price. Lastly, with no money back guarantee, it shows how little the manufacturer cares about their products or about customer satisfaction. For these reasons, we cannot recommend this supplement to help you grow healthier hair, skin, and nails.
Top investigative research brought to you by the experts at Customer Review.