Botanic Choice Cold/Canker Sores Formula Review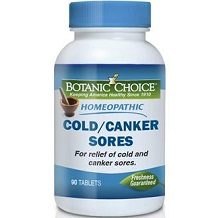 In this review, we analyze Cold/Canker Sores Formula tablets, a homeopathic remedy designed to treat both cold and canker sores. The tablets are made from all-natural ingredients.
Cold sores and canker sores are fundamentally different. The former is as a result of the herpes virus, and is highly contagious. It forms outside the mouth, typically on the lips. Canker sores are tiny ulcers that form on the inside of the mouth. They caused by stress, acidic foods, exhaustion, dental procedures, colds and a number of other factors. They cause pain when eating, drinking or talking.
This is a homeopathic remedy. Homeopathic remedies rely on centuries old healing logic that in order to heal a condition, you expose the body to more of that condition to make the body more robust. Homeopathic remedies therefore enable the body to heal itself, and are not the actual healing agents.
This review examines the efficacy of Cold/Canker Sores Formula with regard to canker sores.
Ingredients
Antimony trisulfide
Honeybee
Copper
Gopher plant
Poison oak
Honeybee helps the pain and redness subside as does Gopher plant, which eases burning and soothes eruptions. Poison oak performs a similar function but also reduces itching and swelling. Copper works on cold sores and Antimony trisulfide heals eruptions under the epidermis.
This seems to be a good and potent product for those who are inclined to use homeopathic remedies. It should reduce the healing time of canker sores significantly. Due to its nature, it does not contain the traditional ingredients usually found in canker sore remedies such as aloe vera or lemon balm.
The long-term ability of the remedy to prevent or lessen future eruptions is unclear, although many homeopathic remedies are designed to work in a 360-degree cycle of cure, reduction and prevention.
Dosage
Take 2 tablets up to 4 times per day until your symptoms ease, but speak to a doctor should they last for more than 7 days. Dissolve the tablets under your tongue or chew them. Possible
Side Effects
There are no explicit likely side effects but overdosing on any product always comes with risks. Poison ivy, for example, can cause an allergic reaction. Symptoms are severe throat itchiness, diarrhea, urinal blood, vomiting and colic.
It is best for children under 12 not to use this product unless a medical practitioner authorizes a lower dosage. Pregnant and lactating women should also consult a doctor first.
Price
At the time of compiling this review, one bottle of 90 tables as well as another free one was available to buy online from the product website for $10. A single bottle is prcied at $8.04 on Amazon.
Guarantee
A one-year guarantee applies. The product can be returned for a full refund. Multiple bottles can be returned as long as only one bottle has been used.
The Conclusion Of Our Cold/Canker Sores Formula Review
As far as homeopathic remedies ago, this seems to be a potent remedy which will reduce the time taken for canker sores to heal. The product is natural and not addictive. If you opt for the buy one, get one free offer on the website, this is a cost-effective remedy. In general, homeopathy is not about quick fixes but holistic health and long-term healing. Those looking for a radically quick fix may find it in another product.
Cold/Canker Sores Formula receives extremely average reviews. We think this comes down to familiarity with the nature of homeopathic remedies. Traditional medicine is skeptical as to whether homeopathic approaches in general have any value. This product is not for you if you prefer traditional drugs or even supplements.
Top investigative research brought to you by the experts at Customer Review.