Orajel Mouth Sore Gel Review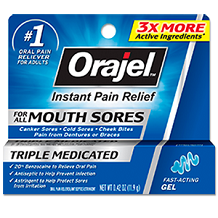 This review of Orajel Mouth Sore Gel examines how effective the product is likely to be when used as a canker sore treatment. Canker sores form on the inside of the mouth in the soft mouth tissue. They are not viral-based or contagious. These lacerations form due to stress, exhaustion, acidic foods, dental scratches, colds, the flu and other causes. A lack of vitamin B12 and suppressed immunity is also related to the onset of these tiny, painful ulcers.
Canker sores can heal on their own but as they are painful and inhibit drinking and eating, most people seek immediate relief. The product claims to be a maximum-strength one for the fastest relief.
Ingredients
Benzalkonium Chloride 0.2%
Benzocaine 20%
Zinc chloride 0.1%
The gel works using a three-prong approach. The first ingredient is an oral antiseptic to prevent further infection. This is important as other mouth bacteria can penetrate the open tissue, where it could find a home to nestle and create complications. The second ingredient targets the pain associated with these lacerations. It dulls the pain. The third ingredient is an astringent – it helps the tissue contract or close. This is the healing element. The gel therefore disinfects the wound, dulls the pain and heals the wound.
This three-prong formulation is sensible and the formulation is unique. It is not based on natural ingredients though. Because of this, it is likely to cause a burning or stinging sensation when applied. Although the pain relief will probably be acute and quick, it is likely to be of a temporary nature. Ingredients in natural formulations such as aloe that soothe the sore are missing. This seems to be a highly effective put-out-the-fire-now remedy but as for long-term relief and recurrence prevention, it is likely not to be too helpful.
Dosage
Cut open the tip of the tube where marked. Apply the gel up to 4 times a day.
Possible Side Effects
Supervise children under 12 when administering the product to them and consult a physician about using it on children under 2. If you have an allergy to 'caine' anesthetics such as procaine, butacaine or benzocaine, do not use this product.
Price
You can purchase the gel for $6.74 on Amazon. At the time of compiling this review, coupons were available on the product website.
Guarantee
We could not find evidence of a returns policy.
The Conclusion Of Our Orajel Mouth Sore Gel Review
This powerfully formulated gel has as a stated objective, providing temporary pain relief from canker sore irritation. The three-tier approach of disinfecting the wound, contracting it and dulling the pain is distinct from other remedies. The product is not that pricey.
On the other hand, it would be remiss of us not to mention that this is neither a natural nor holistic remedy. Users state that the pain relief is indeed temporary, and a new application is required. It stings when you apply it. Ingredients which have a more all-round soothing effect are missing and because certain ingredients which help prevent these sores are missing, recurring bouts can still be expected. If you are willing to risk your money in the absence of a guarantee and want a quick pain reliever, give this product a try.
Top investigative research brought to you by the experts at Customer Review.