Research Verified Hemo Relief Review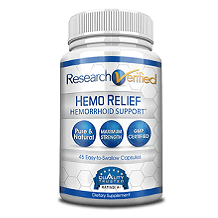 This is a review for Research Verified Hemo Relief to help you discover if this is the right product for you. This product is one of the best hemorrhoid relief products I have ever had the opportunity to review. The manufacturer states that this product has the ability to decrease the amount of irritation and inflammation to speed up the process of healing. They also state that this product uses healing ingredients to restore proper circulation and strengthen blood vessels. Keep reading to learn more about this product.
Ingredients
Here is list of ingredients that are in in this particular product:
Witch Hazel
Diosmin
Ginger Root
Oat Straw
Bilberry
Plantain
Mullein Leaf
Dosage
This product should be used a dietary supplement to treat hemorrhoids. The label states that you should take one capsule twice a day with meals and with a full glass of water.
Possible Side Effects
There were no side effects found for this product. There are some warnings on the label that state that you should not take more than the recommended dose. If you are a pregnant woman who is nursing you should contact your physician before taking this supplement. If you have any known medical condition you should also talk to your doctor before taking.
Price
Research Verified offers three different packages for customers to choose from. Research Verified provides many different ways to make their customers happy, and bulk buying is one of these ways. You can read more about Research Verified online to find out more. Research Verified offers a one-month supply of this product for $48. If you prefer to purchase products in bulk you can buy a three-month supply for $98 which saves you over $100 on the standard retail cost if purchased separately. Customers can also purchase a pack of six which costs $142 and saves you over $66% off the retail cost.
Guarantee
In order for Research Verified to stand by their products, they offer their customers a one-year money back guarantee for all of their products. If for any reason you are unhappy with the product you can return it at any time and receive a full refund within a year. You can return both opened and unopened products and they you will be eligible for a refund. The manufacturer stands by their product as well as their customers. Reviews for this product state that it is helpful with relieving pain associated with hemorrhoids.
Conclusion – Research Verified Hemo Relief Review
Research Verified Hemo Relief is one of the best hemorrhoid relief products on the market. Research Verified provides high-quality products and a variety of different options for their potential customers. It is made of 100% natural ingredients that soothe and heal the affected area without causing additional irritation to the hemorrhoids.
Research Verified also offers a 100% money back guarantee for one-year and also allows you to return products even if they have been opened so you can feel safe purchasing in bulk. The customers who have used this product have noticed immediate results. They are a highly reputable company that offers their customers high quality products made with natural, healing ingredients.
Top investigative research brought to you by the experts at Customer Review.