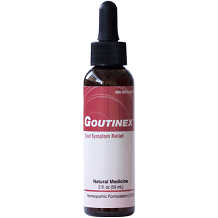 Goutinex is one of the most popular option for people who are on the lookout for safe and effective relief against a variety of gout symptoms . This homeopathic supplement is a preferred alternative against painkillers with steroidal formulation. By being abundant with biochemical compounds that are naturally-sourced, you can have peace of mind on its ability to treat gout without having to suffer from adverse side effects. This non-stimulant and non-drowsy supplement is approved by the FDA, which makes it even more popular. Some of the symptoms it can relieve include inflammation, swelling, stiffness, and joint pains. Users can have the option of applying it topically or having it ingested.
Ingredients
Actaea Spicata
Ammonium Phosphoricum
Colchicum Autumnale
Formicum Acidum
Fraxinus Excelsior
Ledum Palustre
Natrum Carbonicum
Nux Vomica
Phytolacca Decandra
Rhododendron Chrystanthum
Salicycum Acidum
Utrica Urens
Dosage
The packaging of the product clearly specifies the dosage recommendations to achieve a higher level of effectiveness. As recommended by the manufacturer, when the product is taken internally, 1ml of Goutinex can be ingested directly or combined with water. This should be done twice daily and an hour before eating. When applied externally, it can be placed directly on the painful or inflamed area twice to six times daily.
Possible Side Effects
There are no side effects and harmful drug interactions reported with the use of this natural supplement for gout treatment , which is basically because of the fact that it is made with natural formulation.
Price
A 30-day supply of Goutinex can be purchased for a price of $34.95. For a limited time, the company is offering a promotion wherein you will get one bottle for free if you buy three bottles. With this, you will only have to pay $89.95 for four bottles or $22.49 per bottle. If you live in the US, you can also enjoy free shipping.
Guarantee
As a way of giving their customers peace of mind, there is a 60-day money-back guarantee offered by the company. However, the product can only be returned after 30 days of its initial use because the company claims its effects can be evident after a month of using the product. The policies also indicate that only a maximum of two bottles are allowable to be sent back. If you are returning more than 2 bottles, the other bottles should still be sealed. Also, the guarantee will not take effect for repeat purchase.
All of the Goutinex ingredients are approved by the relevant authorities and manufactured in accordance with internationally accepted standards to make sure of its ability to deliver a high level of satisfaction.
Conclusion of Goutinex Review
If you are looking for an affordable and effective product for gout treatment , Goutinex can be a good choice. However, since it is a homeopathic supplement, its effectiveness may vary depending on the response of the body of the user. There are many other alternatives made from all-natural ingredients that can deliver high level of effectiveness.
Top investigative research brought to you by the experts at Customer Review.