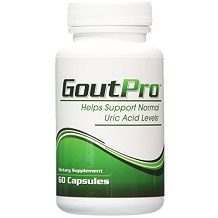 The review you are about to read is going to examine a product called GoutPro. The manufacturer of this remedy claims it can support normal uric acid levels in the body. They also allege it is an all-natural remedy that has no side effects.
The aim of this review is to give you an objective examination of all these allegations. In the end, you will be able to make a purchase decision that is anchored in facts.
Ingredients
This product contains a blend of the following herbal ingredients:
Aged Garlic
Artichoke Powder
Turmeric Powder
The inclusion of Yucca root in GoutPro acts as a natural analgesic. Garlic is included to facilitate the stimulation of the immune system. On the other hand, milk thistle is intended to help in the antioxidation process. Turmeric powder helps in the reduction of pain and inflammation. Artichoke powder assists in the expulsion of excess uric acid from the body. The one ingredient that seems to be missing in this product which seems common in other gout products is tart cherry extract.
Dosage
The manufacturer has not displayed the dosage instructions for GoutPro on their website. A serving size though is stated as one capsule and each bottle contains 60 capsules. We assume, that you should take two capsules a day, but you should read the product's label before you take this supplement.
Price
Customers can purchase GoutPro online directly from the manufacturer's website. One bottle of 60 capsules will cost $24. The manufacturer also allows for bulk purchasing. You can buy three bottles for $74.97, and six bottles for $147.00.
Possible Side Effects
There are no known adverse side effects accompanying the consumption of GoutPro. But it is necessary for users to exercise good judgment and read the label to find out if they are allergic to any of its ingredients. It is also wise to seek a doctor's approval if you are suffering from any chronic medical conditions before you start using GoutPro.
Guarantee
The manufacturer of GoutPro mentions a 100% satisfaction guarantee with a "no questions asked" return policy. However, there is no information clarifying what that return policy is, its validity period, or any other facts a user may need. When we checked Amazon, we saw 368 user reviews that gave this gout supplement a 4.2-star rating out of a possible 5-star consumer approval.
Conclusion of Our GoutPro Review
GoutPro joins the ranks of many other remedies on the market seeking to help people achieve a healthy balance of uric acid in order to manage their gout symptoms. The product comes at an affordable price that makes it accessible to all interested users. Also, it has some positive user reviews on Amazon. However, it has some few missing links. It lacks a specific ingredient popular in another gout remedies. It also lacks any details around its supposed money-back guarantee. The manufacturer also provides very little information about themselves on their website.
Top investigative research brought to you by the experts at Customer Review.