Researched Verified Gout Relief and Tart Cherry Review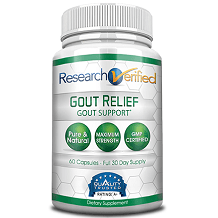 Researched Verified Gout Relief and Tart Cherry gives a one-two punch to gout issues with the benefits this product offers. This all natural supplement delivers a complete system to not only treat gout but also prevent future complications from this condition. This product helps the body in flushing out uric acid levels and assists in reducing inflammation as well as alleviates pain caused by this condition. Continue reading our full review below to learn more details about this product.
Ingredients
This product comes in two variations, the Gout Relief formula and the Tart Cherry Extract supplement. First, let us take a look at the ingredients used by the Gout Relief bottle. This one focuses on alleviating pain and reducing inflammation as well as reducing the body's uric acid levels as well. Each capsule of the Gout Relief formula contains the following ingredients:
Tart Cherry – contains high levels of antioxidant and anti-inflammatory properties.
Folic Acid – it prevents the enzyme that is connected to uric acid production.
Artichoke – it is a good source of vitamins and minerals and has antioxidant, antimicrobial and anti-inflammatory properties.
Garlic – a well known medicinal herb thanks to its anti-parasitic, anti-bacterial, antiseptic and antifungal properties.
Yucca Herb Stock Leaf – used to treat rheumatic disease for centuries.
Milk Thistle – helps cleanse the liver.
Turmeric Root – another traditional medicinal herb used to treat arthritis.
Dandelion Extract – helps strengthen the liver.
Rutin – it has an anti-inflammatory and antispasmodic property that is commonly used to help balance the hormonal equilibrium.
As for the Tart Cherry Extract bottle, it contains a single ingredient which is, of course, a high concentration of tart cherry extract. Tart cherry is known for its high levels of antioxidants and anti-inflammatory properties and has been used to treat gout for centuries. This is a safe and natural compound that offers anti-rheumatoid and anti-arthritic properties. Read more about how Research Verified formulates their products according to scientific research in our Research Verified review.
Dosage
Both the Gout Relief and Tart Cherry Extract should be taken at similar doses and that is two times per day. Take one capsule from each bottle before meals, preferably in the morning and another in the afternoon. Do not exceed the dosage indicated in the label or as instructed by your health professional.
Possible Side Effects
Both the Gout Relief and Tart Cherry supplements are relatively safe to use. As a dietary supplement, each has proven to be a safe method to help treat and prevent gout conditions from developing. However, we should note that we do not recommend taking this supplement if you are pregnant. The fruit itself is safe enough in moderate amounts but supplements contain concentrated doses so it is not known if it will be safe for pregnant women. Stay on the safe side and avoid use if you are nursing or pregnant.
Price
Both the Gout Relief and Tart Cherry Extract is priced the same, which is $48 per 60 capsule bottles. However, if you plan on purchasing both then you will get a discount which will lower the price tag to $40 per bottle. This product is also available in monthly supply packages which are a great option to have in any type of supplement product. You can get a 4 bottle package that contains 2 gout relief bottles and 2 tart cherry extract bottles $116. There is also a 6 bottle package that includes 3 gout relief and 3 tart cherry extract bottles at $144.
Guarantee
This product comes with an impressive one-year money back guarantee clause for customers. That pretty much eliminates the risk of purchasing an ineffective product and shows how confident the manufacturer is with their supplement. You can return this product even if you have already opened the bottle, just contact them through their customer support and they will give you all the details needed to conduct the return and refund.
Conclusion – Researched Verified Gout Relief and Tart Cherry Review
The Researched Verified Gout Relief and Tart Cherry Extract is a great product for those who are suffering from gout and also wish to keep their uric acid levels in check in order to prevent future complications. The double supply package keeps the price at a reasonable level and the one year guarantee is an exceptional deal.
Top investigative research brought to you by the experts at Customer Review.