Complete Natural Products Gout Complete Review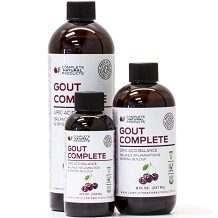 Gout is a type of rheumatic disease that results from deposits of uric acid crystals in body tissues. There are many treatments available for this condition and one of them is Gout Complete. This product is interesting in that it implies its aims are to lower uric acid levels and promote good kidney health, but nowhere on the product page does it actually say so. Check out our Gout Complete review and learn if this could help you.
Ingredients
Gout Complete has more than 35 ingredients among which are:
Activated apple cider vinegar
Tart cherry concentrate
Ginger
Garlic
Lemon juice
Pomegranate
Zinc
Amino acids like L-Arginine and L-Lysine
In other words, Gout Complete boasts the combination of all-natural ingredients which it implies will help address gout condition. The most notable ingredient in the list is apple cider vinegar which is a known gout remedy. Gout Complete says its ACV is in "activated" form, which connotes a proprietary process by which its ACV is created. The company also touts its liquid formulation which it says results in a far greater absorption rate than pills and, for some, makes it easier to take.
Dosage
Simply dilute one ounce of Gout Complete in four ounces of water or juice and drink every time gout symptoms attack. If you are taking it for the first time, drink one ounce (diluted as a above) twice a day for the first two days.
If you plan to use it as a preventive treatment against gout, drink between two (diluted as above) ounces per to as little as two (diluted) ounces every month.
Possible Side Effects
Gout Complete is made of all-natural ingredients, which should decrease the possibility of side effects. Nonetheless, you should review the complete list of its ingredients in case you have sensitivity of allergies to any of them and it is best to check with your doctor about using this product.
Price
Gout Complete comes in three sizes. At the time of this review you could purchase the product from the manufacturer's website as follows:
4oz – $13.95
8oz – $24.95
16oz – $45.95
They offer free shipping if your purchase order is more than $49.
Guarantee
Complete Natural Products Gout Complete offers a 60-day money-back guarantee if you are not satisfied with their product but they do not accept refund requests until at least 30 days after purchase, to give the product a chance to work. The money back guarantee does not cover discounts, handling charges, or shipping costs when you return the product, which means it will be at your expense.
Conclusion of Our Complete Natural Products Gout Complete Review
Overall, we like the all-natural formulation of Gout Complete and believe that at least some of the ingredients in the extensive list should help relieve gout issues. The liquid formulation is also a plus since it is easy to swallow and quickly absorbed by. Nevertheless, the manufacturer's website is a little hard to take seriously though for two reasons. First, as noted in our introduction, it makes no claims whatsoever about actually relieving or treating gout. Second, at the time of our review there were over 200 "reviews" listed and, although we did not look at each one, we did look at several pages' worth and every review on each of those pages gave a five-star rating. We have never seen a product, with genuine reviews, that is unanimously rated five-star when there are hundreds of reviews.
Top investigative research brought to you by the experts at Customer Review.