The Vitamin Shoppe Tart Cherry Review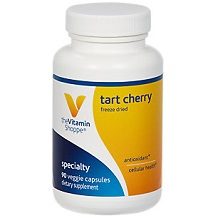 The following is our review of The Vitamin Shoppe Tart Cherry. It is a dietary supplement that claims to support a healthy inflammation response while also providing antioxidant support. Inflammation is small amount is good. It means your body is working and telling you there is a problem and it's dealing with it. Too much inflammation can cause even more problems and that's why it is sometimes necessary to take supplement for help. Continue reading for our full review.
Ingredients
Cherrypure – Freeze Dried Cherry Skin Concentrate – 1,500 mg
Other ingredients include vegetable cellulose, microcrystalline cellulose, and magnesium stearate, silica.
This product does not contain animal derivatives , artificial colors or flavors, citrus , dairy , fish, gluten, preservatives , salt, soy, sugar, wheat, and yeast. The ingredient is packed with antioxidants that increase the body's resistance to oxidative stress. Anthocyanins in particular, may play an important role in supporting uric acid balance in the body.
Dosage
Take this product as a dietary supplement. It is recommended to take take 3 veggie capsules daily, preferably with meals.
Possible Side Effects
There were no possible side effects listed on the manufacturer's website. You should consult your doctor before using this product if you are pregnant, nursing, taking any medication, or have any known medical condition. Please keep this product out of the reach of children.
Price
The Vitamin Shoppe Tart Cherry can be purchased directly from the manufacturer's website. It is currently on sale for 16.99 for a bottle of 90 veggie capsules. It's usually sold for $19.99. Each bottle will last you a month so this seems like a pretty fair price.
Guarantee
This product is backed by a very strong guarantee. You are able to return opened and unopened products purchased from any Vitamin Shoppe channel to any Vitamin Shoppe store within 30 days. If the product is returned unopened with a receipt, you will receive the return on the original form of payment. If the product was returned opened with a receipt, you will receive store credit. If you are not able to return to a store, you can return the product by mail but be aware that you will be responsible for return shipping costs.
Conclusion of The Vitamin Shoppe Tart Cherry Review
There are a couple of positive things about The Vitamin Shoppe Tart Cherry. It is sold for a very fair price, allowing you to actually buy more of the product if you like the results. This product also has a clearly detailed, strong guarantee. It allows you, the customer, to return any product, used or unused and either get your money back or store credit. We think this is a very fair guarantee since you can try the product and if it doesn't work, get the money back and try something else. There were a couple of negatives about this product as well. There's a link to read reviews on their website but when we clicked on it, it did not lead us to any reviews. We were also unable to find customer reviews anywhere for this product, which is not a good sign. This product may also be dangerous for pregnant or nursing women which makes us wonder how safe it is in general. We feel you can find a better product elsewhere.
Top investigative research brought to you by the experts at Customer Review.