Terry Naturally Tart Cherry Review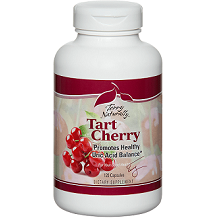 The following is our review of Terry Naturally Tart Cherry. It is a dietary supplement that promotes a healthy uric acid balance. This product delivers anthocyanin power found in tart cherries in the convenience of a capsule. Anthocanins are found in tart cherries. They are richly colored flavovnoid compounds with potent antioxidant capacity. Continue reading for our full review.
Ingredients
Other Ingredients include: hydroxypropyl methylcellulose (vegetable cellulose capsules), silica, microcrystalline cellulose, and vegetable source magnesium stearate.
The ingredient is packed with antioxidants that increase the body's resistance to oxidative stress. Anthocyanins in particular, may play an important role in supporting uric acid balance in the body. This product contains no sugar, salt, yeast, wheat, gluten, corn, soy, dairy products, artificial coloring, artificial flavoring or artificial preservatives. It is also certified vegan and non-GMO.
Dosage
The manufacturer recommends taking 1 or 2 capsules twice daily. These directions are not as clear as they should be. For example, why would a dose of 1 capsule be better for someone than a dose of 2 capsules. The instructions also fail to mention if the capsules should be taken with food,or before or after a meal.
Possible Side Effects
There were no side effects listed on the manufacturer's website. You should consult a doctor before using this product if you are pregnant or nursing.
Price
Terry Naturally Tart Cherry can be purchased directly from the manufacturer for $35.95 for 120 capsules. This product will last you 1-3 months depending on the daily dose you take. It it definitely more affordable if you can make it last 3 months but it is unclear how many capsules you, personally,  will be taking each day. We also found it sold on Amazon for $28.76, which is a great deal compared to the manufacturer's price.
Guarantee
This product is backed by a money-back guarantee. The manufacturer says that you will either get results or your money back. They want their customers to be happy. You will need to first email them to receive your return authorization number for you to reference on the product return. This guarantee lacks a couple of details like how long a customer has to return the product and the condition the product needs to be in in order to qualify for a full refund.
Conclusion of Our Terry Naturally Tart Cherry Review
There are a couple of positive things about Terry Naturally Tart Cherry. There weren't that many reviews for this product but out of the ones we did find, most of them were positive. This product is also certified vegan and non-GMO. There were a couple of negative things as well. This product is not that affordable since it may only last you a month if you choose to take the highest dose. To continue buying this product for such a high price will eventually make a huge dent in your wallet. This product also seems to have a good guarantee. The manufacturer states how they value their customers satisfaction but fail to provide details of what actually qualifies for a full refund and how much time you will have to return it. With all of this information, we feel you can find a better product elsewhere.
Top investigative research brought to you by the experts at Customer Review.