Rejuvica Herbs Uricel Review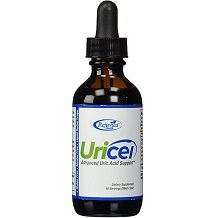 Rejuvica Herbs Uricel claims to be a fast-acting remedy for gout, made from natural herbal extracts that interact with the body to promote healthy uric acid levels. The natural uric acid cleansing ingredients strive to work fast to regain your mobility while soothing discomfort and inflamed joints. This product claims to support healthy uric acid levels, inhibit future joint discomfort and help cleanse the body of unwanted toxins resulting in a long-lasting solution for gout. Read our Uricel review below to gather more information to help with your purchasing decision.
Ingredients
Tart Cherry – Contains a high amount of anthocyanins, that reduces uric acid.
Celery Seeds – Contains powerful ingredients that fight

inflammation and relieve pain.

Turmeric – Contains curcumin that is effective at relieving pain and reducing inflammation. Also, it directly lowers uric acid levels in the body.
Yucca Root – Has a compound known as steroidal Saponin which interrupts the body's inflammation response stopping the pain and swelling in the affected joint.
Devil's Claw – Prevents pain and inflammation in the body before it starts.
Chanca Piedra – Helps to clear uric acid crystal formations which cause pain and swelling. It also increases urine production and speeds up the excretion of uric acid from the kidneys.
Dosage
Take 1/4 teaspoon (1.23 ml) 1 – 3 times a day or as needed. You can either mix with water or take straight from spoon. Never mix with soda. While using Uricel, keep your daily water intake very high to enable it to work properly. Immediately after taking Uricel, you will begin to feel pain relief and reduced swelling after 3-7 days. For complete removal of uric acid, you are advised to continuously take Uricel for a minimum of 30-60 days.
Possible Side Effects
The manufacturer indicates that Uricel customers have not reported any negative side-effects while taking Uricel. However, is it always important to consult a physician before using this product.
Price
Different packages of this product are available for purchase. You can either place an order through the manufacturer;'s website or over the phone. One bottle, which is appropriate for mild pain, sells for $44.99. You can also buy a package for Moderate Pain at a cost of $87.90. The package suitable for severe pain retails at $124.90. Each packages comes with a free joint pain cream which helps to relieve pain and reduce inflammation deep into the afflicted joint.
Guarantee
The manufacturer offers a 60 day money back guarantee. This is a clear indication of the confidence they have in their product. If you are not satisfied with your results within 60 days of taking Uricel, then you should return the bottles, used or unused, and you will be refunded in full (minus shipping costs).
Conclusion – Uricel Review
Uricel is holistically designed by high-ranking health researchers with one goal of cleansing uric acid from the blood. To ensure purity and potency, ingredients are rigorously checked and processed under strict standards. Despite the product enjoying positive reviews from customers, its priced much higher compared to similar products available in the market. Worse still, this product can only be purchased from online stores. The way this product works varies from one individual to another.
Top investigative research brought to you by the experts at Customer Review.