Goutflex Gout Formula Review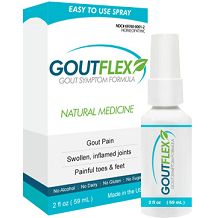 In the following review, we are taking a closer look at a homeopathic supplement  designed to treat the symptoms of gout. Goutflex Gout Formula is an all-natural homeopathic product that comes a tiny 2oz bottle that you spray directly into your mouth. The maker's of this supplement claim that it will temporarily relieve the symptoms of gout in joints, feet, and toes.
Ingredients
Ammonium Phosphoricum
Belladonna
Colchicum Autumnale
Formicum Acidum
Fraxinus Excelsior
Ledum Palustre
Natrum Carbonicum
Urtica Urens
These ingredients are included to help relieve the pain of gout and joint discomfort, and joint inflammation. The inactive ingredients in this product are Citric Acid, Potassium Sorbate and Pure Water.
Dosage
This product comes in a spray bottle and is administered orally directly into your mouth. Adults should use 4 sprays while children should use only 2 sprays. You can use up to three times a day if needed. Neither the product label nor the manufacturer's website explain at what time of day the spray should be administered nor if it should be taken before or after food.
Possible Side Effects
No known side effects are reported on the product label or manufacturer's website. Consult with a healthcare professional before using if pregnant or nursing. If symptoms persist, seek advice from your healthcare professional.
Price
You can purchase this product directly from the manufacturer's website. One 2oz spray bottle costs $44.95. You can get discounts when subscribing to a recurring purchase or when buying in bulk (without a recurring order). A one bottle recurring order gives a 5% discount. If you subscribe to a recurring order of buy 2 bottles get 1 free, you get a $50 discount. Alternatively, you can buy a non recurring order of 2 bottles and get 1 free for $89 saving $45 over the cost of 3 individual bottles.
Guarantee
We did not find any mention of a guarantee or return policy on the manufacturer's website.
Conclusion of Our Goutflex Gout Formula Review
We have a couple of positive comments about Goutflex Gout Formula. This is an all-natural product free from chemicals, and preservatives. It comes in an easy to use and dispense spray bottle. There is a bulk buying discount available. The negatives about this product are somewhat longer however. There is no guarantee or return policy provided by the manufacturer. There is no new customer discount or incentive. Shipping is not inclusive. The ingredients are scientifically unproven homeopathic and somewhat experimental by nature. Consumer reviews painted a mixed picture with many people reporting that the product had no measurable effect on their symptoms. Even with bulk order discounts this is an expensive product to use. If buying an individual spray bottle, the price is $44.95 for a one month supply. With no guarantee nor return policy to mitigate the risk of a non effective product that price just seems like so much more. There was a lack of dosage instructions. Neither the product label nor the manufacturer's website explain at what time of day the spray should be administered nor if it should be taken before or after food. We recommend that if you are looking for a gout supplement that you purchase one that has a reliable guarantee and return policy with a proven list of ingredients.
Top investigative research brought to you by the experts at Customer Review.