Renevitol Gout Pain Relief Review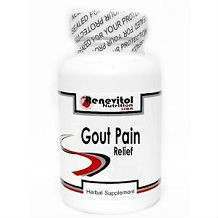 Renevitol Gout Pain Relief is a supplement made from natural ingredients that helps to lessen gout pain so that people are able to enjoy life more fully. This supplement uses a combination of ingredients that are known to be successful in the treatment of gout and other joint-related medical conditions.
Calcium has many beneficial properties that support the body by keeping muscles healthy and resilient. Calcium helps speed the healing process of joints damaged by gout. Typically, gout sufferers take calcium carbonate, which is a form of calcium that neutralizes uric acid in the bloodstream. This form of calcium balances the pH level of the blood and permits uric acid to be eliminated from the body in a painless manner.
Black cherry concentrate is a highly effective ingredient that is widely used in gout supplements. Studies have shown that cherry concentrate has the ability to reduce the rate of future gout attacks by 30% or more. The antioxidants and anthocyanin found in black cherry help put a stop to free radicals destroying cells which as a consequence helps reduce uric acid production.
Devil's claw is an herb that when added to a dietary supplement has many positive effects when it comes to treating people who suffer from gout. This additive aids in reducing the occurrence of inflammation which causes pain in joints. It also helps to boost the immune system response and increases the removal rate of uric acid within the body.
Yucca binds itself to ammonia and forces it to pass through the body without allowing it to be converted into uric acid. This control mechanism helps to control the amount of uric acid levels so that crystal deposits are unable to form joints. Yucca also includes anti-inflammatory agents which also makes this ingredient a worthy pain management tool.
Ingredients
Black cherry concentrate
Calcium (derived from coral calcium)
Devil's claw root (Harpagophytum procumbens)
Yucca root (Yucca baccata)
This supplement is ideal for many people who suffer from food allergies because it does not contain sugar, salt, milk products, lactose, wheat, gluten, yeast, sodium, starch, or corn. It also does not include any artificial flavors, colors, or preservatives.
Dosage
The suggested dosage for this supplement is 3 capsules per day, with one capsule taken at each meal.
Price
The price for a 90-capsule bottle is $19.50 which is enough in most cases to be a full month's supply.
Guarantee
If the customer is not satisfied with this product, the company offers a refund of the purchase price within the US if a request for the refund is made within 14 days following the initial purchase. The cost of shipping is non-refundable.
Conclusion – Renevitol Gout Pain Relief Review
Renevitol Gout Pain Relief is a respectable, natural product that comes with a quality guarantee. It is not exorbitantly priced and is worth buying. However, fourteen days is hardly enough time to come to a conclusion about a product.
Top investigative research brought to you by the experts at Customer Review.