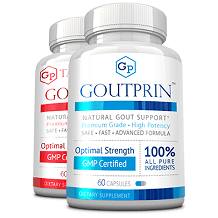 Here we have a review for Goutprin Natural Support; an all natural supplement used to treat gout. Gout is a painful and often debilitating condition plaguing many individuals. There are a number of pharmaceutical solutions on the market to the treatment of this condition, however, for those looking for a more natural treatment the options are limited. Goutprin offers a solution. Goutprin Natural Gout Support is an all natural gout remedy that has no preservatives, no fillers and no binders. All ingredients are hand picked by scientific researchers and specifically formulated to reduce the severity of outbreaks, duration of outbreaks and pain during attacks of gout. It also acts as a preventative measure for future outbreaks.
Ingredients
Rutin – Manages the hormonal balance.
Turmeric – Provides pain relief.
Dandelion – Promotes healthy kidney and liver function.
Tart Cherry – Reduces uric acid level production and build up.
Artichoke – Reduces inflammation and flushes uric acid.
Garlic – Detoxifies the body.
Folic Acid – Neutralizes the enzyme responsible for uric acid production.
Yucca root – Reduces inflammation of the joints.
Milk Thistle – Promotes healthy kidney and liver function.
Dosage
Directions dictate that you are to take two capsules a day to keep symptoms at bay and to prevent future outbreaks. For the best results you are instructed to take one capsule in the morning and one in the afternoon. Do not exceed the instructed dosage as it will not provide swifter relief or amplify the effects in any way.
Possible Side Effects
There are no reported side effects associated with the use of this dietary supplement. However, if you are pregnant, breastfeeding, under the age of 18 or have a known preexisting medical condition you are instructed to consult your doctor before taking this dietary supplement. If you are taking any medications you should consult with your doctor about possible interactions between your medication and Goutprin's ingredients. You should not take Goutprin if you are allergic to any of it's ingredients.
Price
Goutprin Natural Support is priced at $49.95 per bottle for the starter package. However, there are several packages available that offer a discount when you buy multiple bottles at the same time. This includes a package where if you buy two bottles of Goutprin you get one bottle of Tart Cherry and another bottle of Goutprin free of charge.
Guarantee
Goutprin Natural Support offers a 60 day money back guarantee on their product. If you are unsatisfied for any reason simply return the unused portion for a full refund. In addition to it's 100% satisfaction guarantee Goutprin also comes with a buy/safe three in one guarantee which includes ID theft protection for your online purchase, an absolute lowest price guarantee and a purchase guarantee.
Conclusion of Goutprin Review
Gout is an extraordinarily unpleasant condition that is both painful and unsightly. Of the hundreds of homeopathic remedies on the market today, none hold Goutprin's claim of being clinically verified and backed by extensive research into it's effectiveness. This all natural gout remedy has no fillers, no binders, no preservatives or artificial ingredients; which makes it ideal for those looking for a natural solution to the treatment of their gout. Combine this with an ironclad 60 day money back guarantee and you get a homeopathic remedy that stands apart from the rest.
Top investigative research brought to you by the experts at Customer Review.