NeoStrata HQ PLUS Lightening Gel Review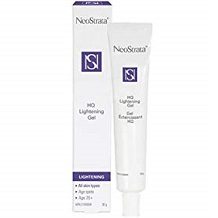 This NeoStrata HQ PLUS Lightening Gel review focuses on where the product fits into the market based on its important features. NeoStrata HQ PLUS Lightening Gel can be used to lighten age spots so that there is an even skin tone. It is also supposedly effective against other forms of dark spots and discoloration caused by acne scarring. The overall result should be younger and healthy looking skin.
Ingredients
Gluconolactone
Hydroquinone
Glycolic acid and glucose lactone help to remove built-up dead skin cells that are on the top layer of the skin. This allows the next ingredient, hydroquinone, to affect living skin cells better. Hydroquinone is a bleaching agent that is able to reduce the amount of melanin (pigment that causes dark spots) in skin cells. The problem with hydroquinone is that experts are not convinced that it is safe and it is actually banned in many countries because of its association to cancer and skin irritation. The combined effects of all 3 ingredients actually sound a little bit dangerous for the skin on the face. There are many other skin lightening products which use natural ingredients which are much safer.
Instructions
Apply the product sparingly to the dark areas once or twice a day unless directed otherwise by a physician. Care should be taken when using the product near eyes and mucous membranes because contact with these and the product should be avoided. Do not use the product if nursing or pregnant, or intending to become pregnant within the next 3 months.
Price
This product can be purchased from third-party retailer websites. The suggested retail price for this product is $40 which provides a tube of 0.53 oz. The price does not include shipping and taxes. There do not appear to be any discounts offered for this product when buying in bulk and there are no options to subscribe for a regular order. This means that the product is more expensive to use over the long term as compared to other products which can be bought more cheaply when buying several packages.
Guarantee
The manufacturer does not offer a guarantee on the product. Depending on which retailer is used, customers might be able to apply that retailer's return policy. For example, one of the main retailers that stocks this product says that if the product is not completely to the customer's satisfaction, then it may be returned within 15 days for a refund or exchange. The product must be returned in its original packaging and some restrictions do apply although these are not mentioned.
Conclusion of Our NeoStrata HQ PLUS Lightening Gel Review
The price of This product is not unreasonable and the instructions for it are quite easy to follow. But there are several problems with this product. The biggest problem is that the ingredients within it are actually considered dangerous by many experts, so customers run the risk of experiencing adverse effects when using this product. Another problem is that the manufacturer themselves does not offer a guarantee which shows that they are not completely confident that the product will be effective.
Top investigative research brought to you by the experts at Customer Review.